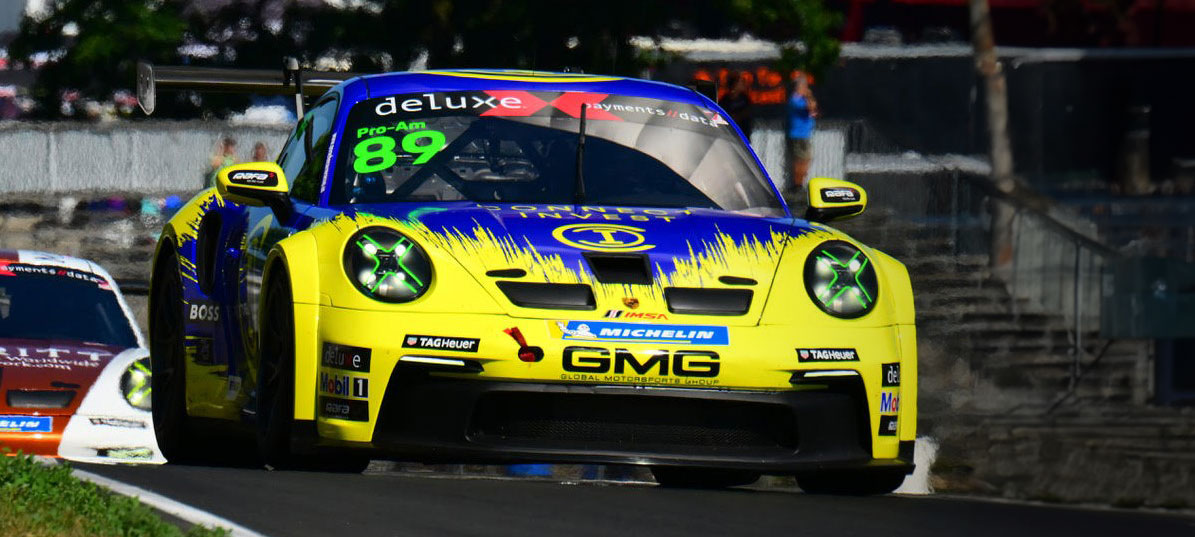 Three Top-Five Class Finishes in IMSA Porsche Deluxe Carrera Cup North America Competition at Road America
GMG Racing and team drivers Kyle Washington and Todd Parriott turned in three top-five results in class during the pair of IMSA Porsche Deluxe Carrera Cup North America races at Road America, part of the NASCAR Xfinity Series race weekend. Washington drove the No. 32 GMG Racing Porsche 911 GT3 Cup and Parriott competed in the No. 89 GMG Racing Porsche 911 GT3 Cup in the Carrera Cup Pro-Am class.
After racing in street course events at the Grand Prix of Long Beach and Grand Prix of Miami, the freshly repaved 4.048-mile Road America road course marked the first permanent, natural terrain road course starts of the season for GMG Racing within Carrera Cup competition. As such, Washington and Parriott spent Thursday's two practice sessions and Friday's single qualifying session gaining valuable laps and experience on the new surface and improved their lap times by several seconds from session-to-session.
"In any type of competition, or sport, when you play against the best it elevates your game," said James Sofronas, GMG Racing Principal and Founder. "Returning to Porsche Carrera Cup after a few races away, you know you're going to be pushed."
In Friday's opening round of the weekend, Washington and Parriott rolled off from seventh and eighth in Pro-Am. Parriott recovered quickly after another competitor turned him around at the first corner. Washington used heads-up driving to gain three positions from seventh to fourth by the end of the second lap, passing another car and snaking through an incident at the Kink.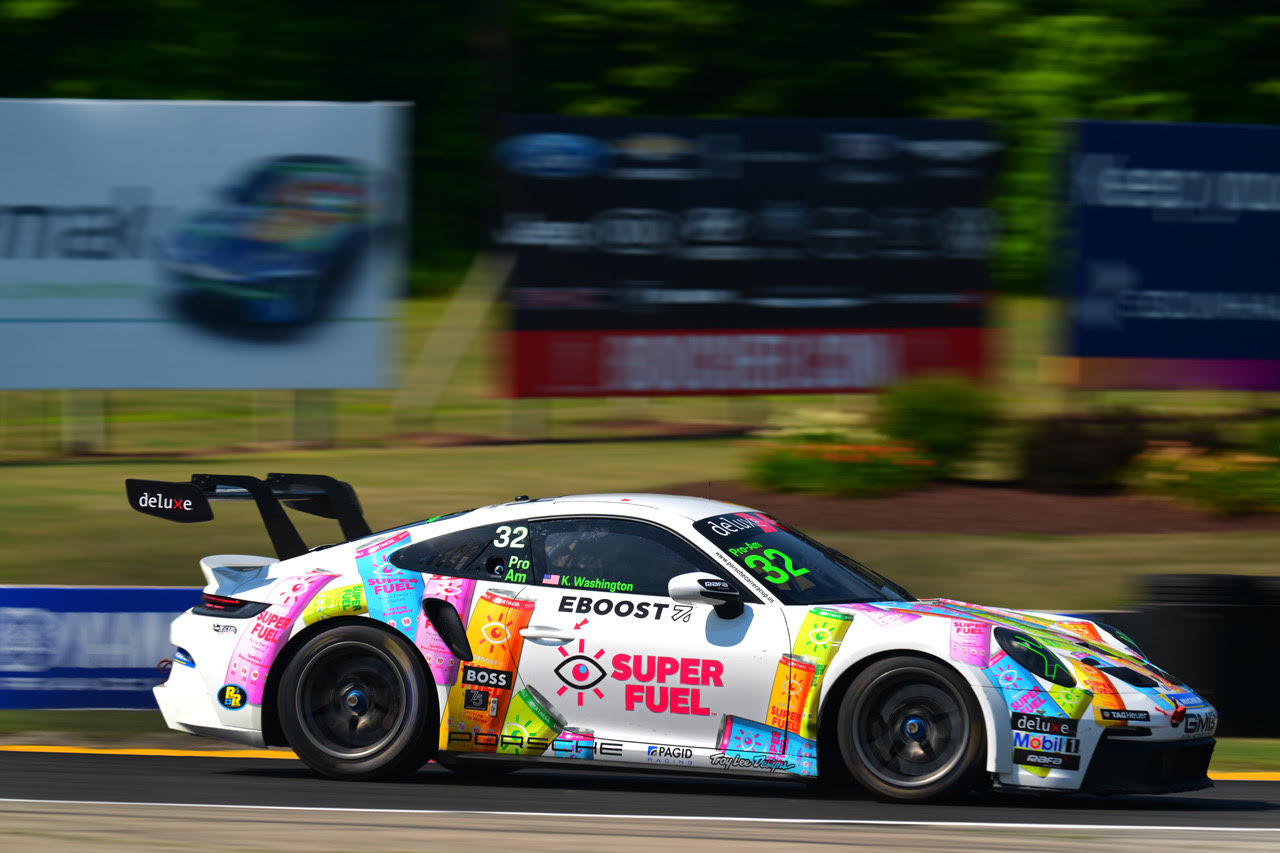 That incident brought out a red flag that lasted more than 20 minutes of the 40-minute sprint race and led to a restart. Washington lost a spot after the restart after going off at Turn 6 of the 14-turn track, but still secured his second top-five finish of the season in fifth place. Parriott secured a season-best result of sixth place. Both drivers delivered consistent lap time improvement in the three-lap sprint to the finish.
Washington described his viewpoint as he navigated the incident in front of him on Friday, drawing on the experience gained from similar driving to get up to a podium in Miami.
"It looked chaotic, but I carved my way through it, trying to avoid where the debris was littered all over the track," Washington said. "Even during the red flag, I was planning how to go from fourth to third. While I was off at Turn 6, I learned from the great GMG Racing team and from the data I saw later, I was in the wrong gear. It was a good learning experience for Saturday and when we come back here in a few weeks."
Saturday's second round started with cooler temperatures and more incident evasion. Parriott leapt from sixth on the grid to fourth ahead of Washington in fifth as several cars ran into problems on the opening lap. Trouble struck both drivers in Turn 14 with 15 minutes remaining in the race, forcing them into the pits for repairs. Parriott was able to resume on course and continue on to a season-best fourth place finish, with Washington able to bank a second consecutive top-five result for the weekend, and third of the season.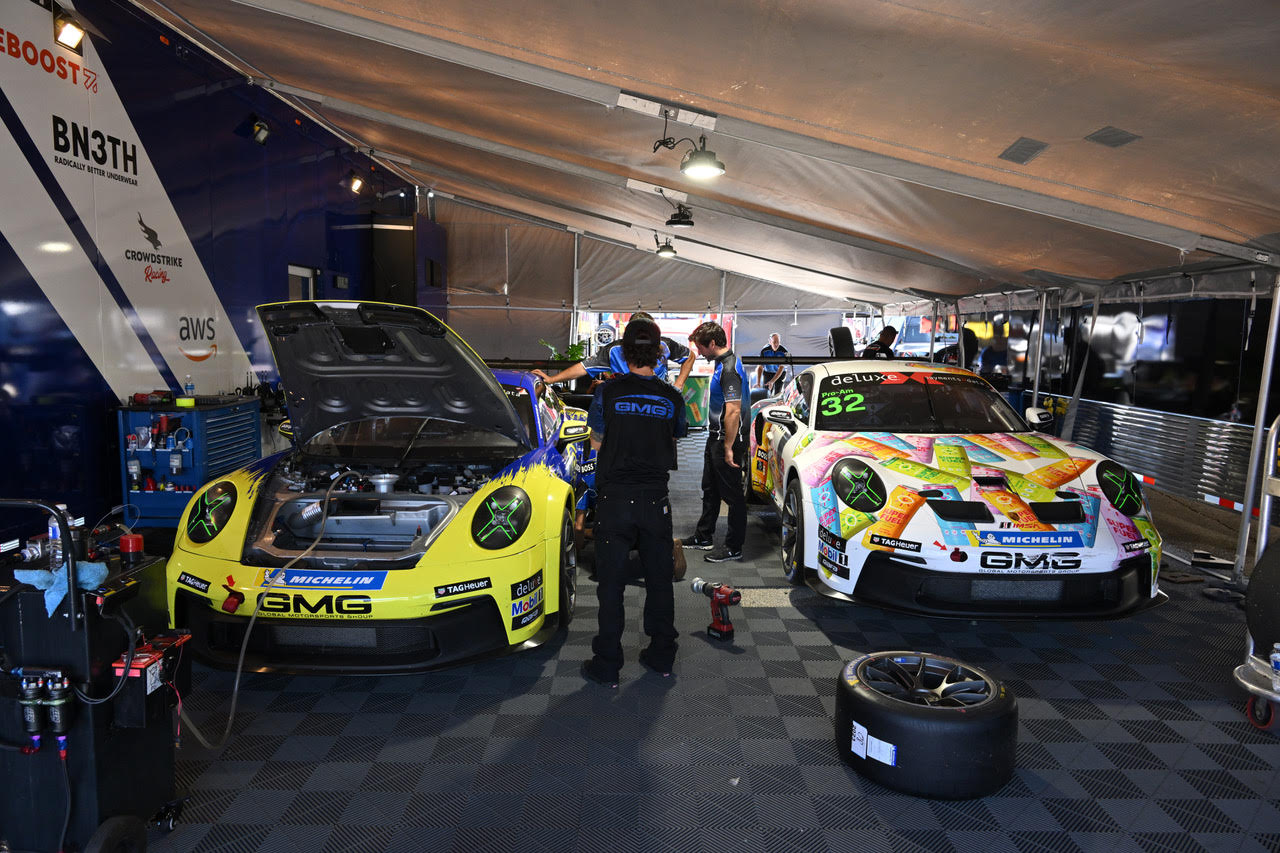 For Parriott, finishing both races and continuing his methodical development in his first-year racing with GMG Racing was key as he makes gains throughout the season.
"All the class drivers are fast, from top young drivers at the front of the field to our Pro-Am class competitors and down to the Am class drivers," Sofronas said. "There's a lot to aspire to when you race here and it helps these guys really focus, so we're thankful to bring home these top-five results."
Part of the GMG Racing plan at Road America in Carrera Cup competition was to gain additional knowledge ahead of the SRO America weekend held at the same track August 18 – 20, 2023. Specific details regarding GMG Racing entries fielded across multiple SRO America race series follow in the near future.