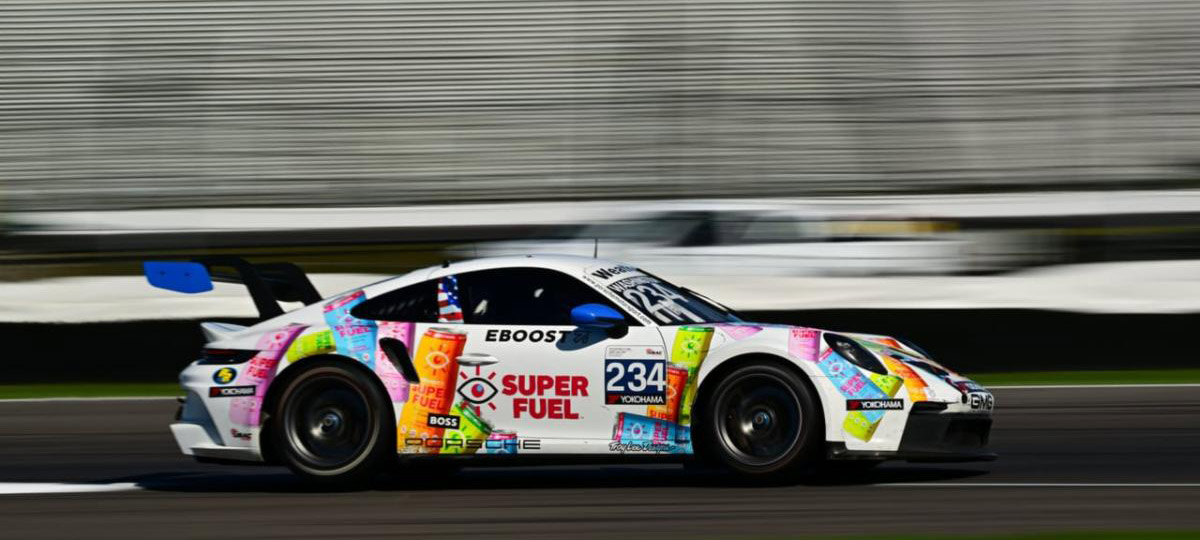 Six Podium Finishes At Indianapolis Motor Speedway During an Action Packed Race Week
GMG Racing drivers Kyle Washington and C.J. Moses brought home six podiums in eight races last week at Indianapolis Motor Speedway in GT America Powered by AWS and Porsche Sprint Challenge North America by Yokohama action. The successful weekend came on the heels of an intense run for the team, which saw a busy RennSport Reunion wrap up on Sunday at WeatherTech Raceway Laguna Seca with the team, drivers and cars all transported back across the country on Tuesday ready for load-in and the start of the Indianapolis race event.
Despite covering 2,300 miles in a short period of time, the GMG Racing team hit the ground running, with Porsche Sprint Challenge races on Thursday and Friday for Washington and GT America races for Washington and Moses on Friday and Sunday.
"I'm super proud of both Kyle and CJ, and with regard to Kyle's performance, he's been super focused," James Sofronas, GMG Racing Founder and Principal, said. "When you have six races over a few days, you really need to. I love seeing the progress, that's the number one thing i'm looking for out of his performance, is continuing to improve. He's doing that based on the four trophies he's bringing home and his pace to the overall top drivers. I know Kyle is really committed, he's putting in the extra work, and he's hungry and wants to do this as much as possible to continue to improve. That's my job, and the team has done a fantastic job in their own right in giving him a car. All three cars ran flawless, no issues, never missed a beat so i'm super proud of them as well."
Washington opened up the racing on Thursday morning with a strong run in the 991 class, taking the No. 132 GMG Racing Porsche 911 GT3 Cup to second in class and fifth overall. By Thursday afternoon it was full wet conditions when the 992-generation of Porsche 911 GT3 Cup cars took the green flag. Despite those changing conditions and a different car, Washington still stood on the podium – this time third in the 992 Am class.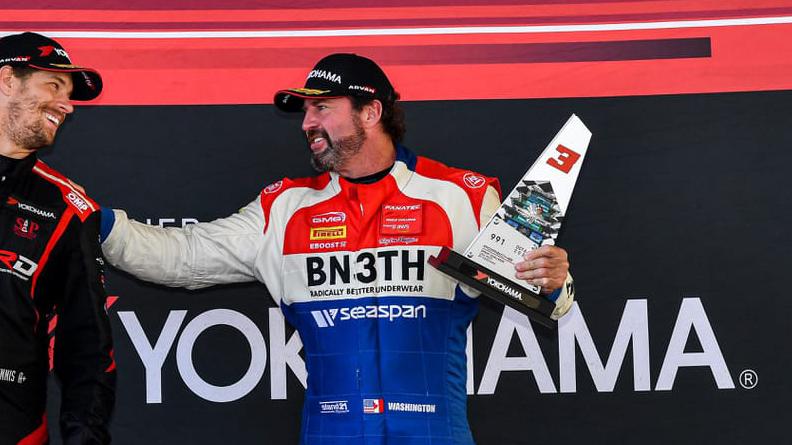 Friday was even more challenging for Washington. Back in the 991 car on Friday morning, he marched to a third place finish. Fewer than three hours later, he had swapped to an entirely different machine – the No. 32 GMG Racing Porsche 911 GT3 R in GT America. Washington drove as high as third, making passes on both the defending series champion and current championship contender, before finishing sixth overall and in a class full of professional racing champions.
But there's no rest for the weary, and Washington jumped out of the GT America car into a waiting golf cart, where he was whisked away to his 992 car for the final Porsche Sprint Challenge race of the weekend immediately after.
"We might be in a little bit of trouble with security for that one," Washington said. "We went by them on a golf cart, I had my helmet halfway up and I had to chug two waters. Security was chasing us, so if we get a ticket then you'll know why! It was tight to say the least."
Running his second 40-minute race back-to-back, Washington again landed on the podium, his fourth of the weekend in Porsche Sprint Challenge competition. With Saturday off for the Indianapolis 8 Hour race, Washington returned on Sunday morning for the second GT America race, finishing eighth to cap a successful race weekend.
"Six races in a weekend is pretty epic at a place like Indy," Washington said. "Look at these flags, look at the tower, the bricks. I had some amazing racing. Sitting around the likes Johnny O'Connell, Kurtz, Daskalos and those guys is a different league and I was really happy to be there. Friday was definitely full, with three races in three different cars. Each race was amazing, had great competition, and it might be the most fun weekend of racing that I can remember. There was so much action, and each race was a race. There was no down time, it was intense. It's an amazing track, and the fields are huge."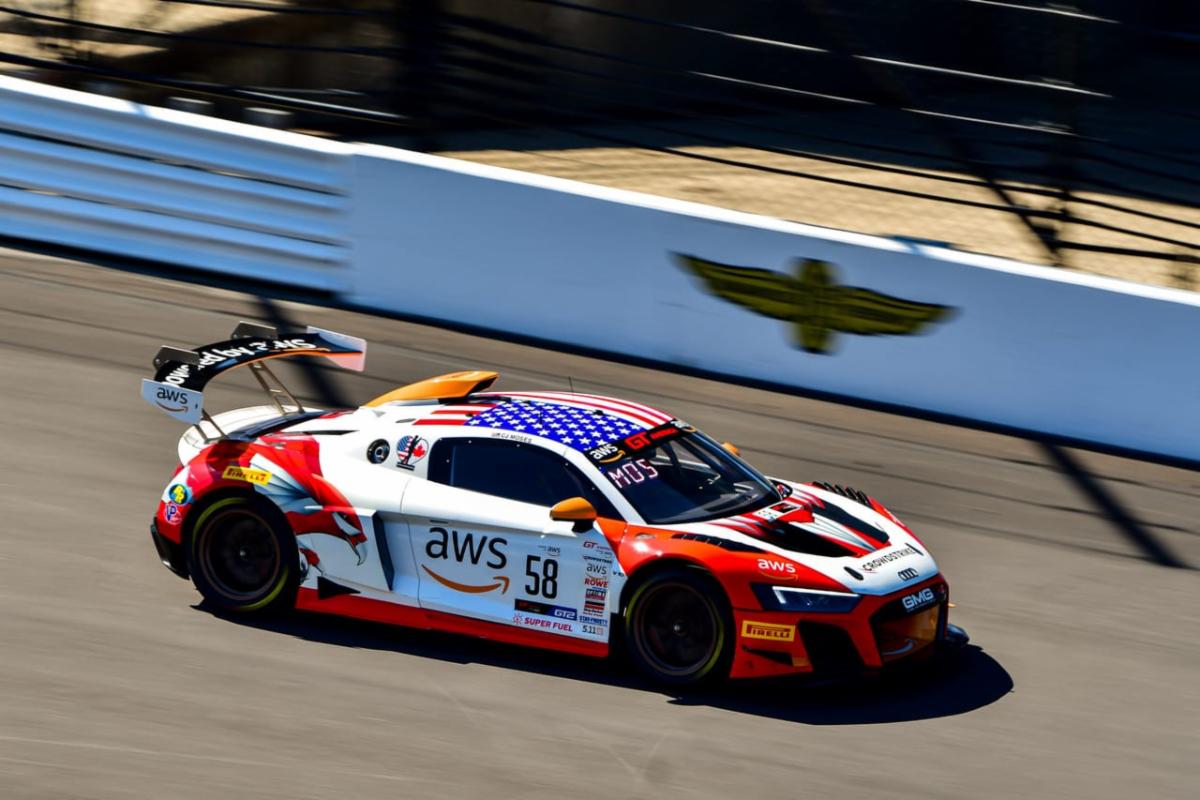 Moses was a podium finisher in both GT America races. Running the No. 58 CrowdStrike/AWS Audi R8 LMS GT2 in the GT2 class as a part-time driver, Moses was back with GMG Racing in a class that both he and the team have been instrumental in developing here in the States. A third place finish in Friday's race became a second-place finish on Sunday to finish the week on a high note.
"It was a short season for me because of work commitments," Moses said. "Life gets in the way, even though we'd like to think racing is the most important thing, not always is it. I was glad to be back in the paddock as much as I was. We had a good season. I was glad to see the GT2 class growing, having other competitors there. GMG is family, so I love coming to the track. It's my place of solace, and the only time I get any mental clarity is when I'm behind the wheel of the GMG Audi. When people are coming at you for all kinds of things all the time, once you get in the car the only voice in your head is yours and your crew chief most of the time."
GMG has been pushing the GT2 concept because it's one that Sofronas believes has potential for customer drivers.
"Having been a part of the GT2 development from the beginning, I think it's a great series for drivers who are looking for a lot of performance and not the entire expense that's involved in GT3," Sofronas said. "The cars are a blast to drive, a ton of power, and as soon as the grids get a little bit bigger I think you'll see people following suit."
The entire GMG racing team was at Indianapolis with a heavy heart, however, running in remembrance of crew member Bryce Cords.
"The nose of Kyle's Porsche, we have a tribute to Bryce, who lost his life two weeks ago tragically in a car accident," Sofronas said. "He was such a fighter and a warrior, and he was the guy who would be in the pits ready to jump on anything. He's incredibly missed. We're all sad, so we put the tribute mustache that he used to sport on Kyle's car to keep him with us."
GMG Racing continues to march forward, and its next appearance will come on the biggest stage in motorsports in front of hundreds of thousands of fans at the U.S. Grand Prix. Washington will run the finale of Porsche Carrera Cup North America at Circuit of the Americas in Austin, Texas, October 20-22 in the team's next on-track appearance.