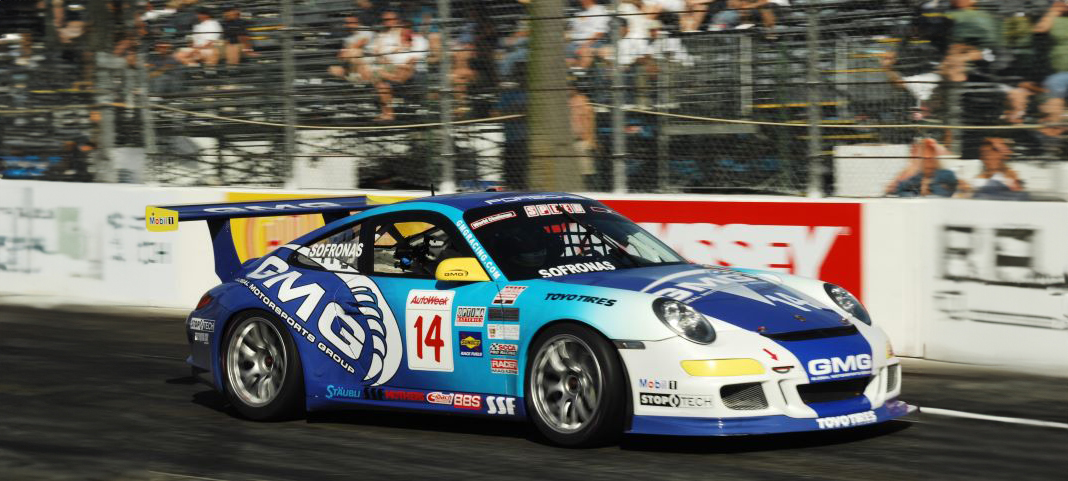 Ready to Represent On and Off the Track this Weekend at Rennsport Reunion 7 at WeatherTech Raceway Laguna Seca
This weekend's Rennsport Reunion at WeatherTech Raceway Laguna Seca is the seventh edition of the largest gathering of Porsche enthusiasts in the world and GMG Racing will be an active part of the event on and off the track. A premier Porsche race shop and street high-performance center based in Southern California, GMG Racing fields a pair of Porsches in two different Rennsport Reunion 7 (RR7) on-track events in addition to running a pair of contemporary 992-generation Porsche 911 GT3 Cup cars in the weekend's IMSA Porsche Deluxe Carrera Cup North America doubleheader.
GMG Racing will also be in full force in RR7's Hagerty Marketplace in booth space No. 23 where fellow Porsche enthusiasts can learn all about the latest GMG Racing product information and talk racing and high-performance for the street with the GMG Racing team.
"We had one of our first major professional race wins at Laguna Seca back in 2009 and, along with another win that year at Long Beach (pictured at top), it really launched GMG Racing to the next level as a top Porsche team almost 15 years ago," James Sofronas, GMG Racing Founder and Principal, said. "For me, it's just sentimental and means a lot, and Rennsport Reunion is a special event. We'll be running both IMSA Carrera Cup and our 2009 winner and another car in Rennsport events, and we consider WeatherTech Raceway Laguna Seca our home track. For me, I'm super excited."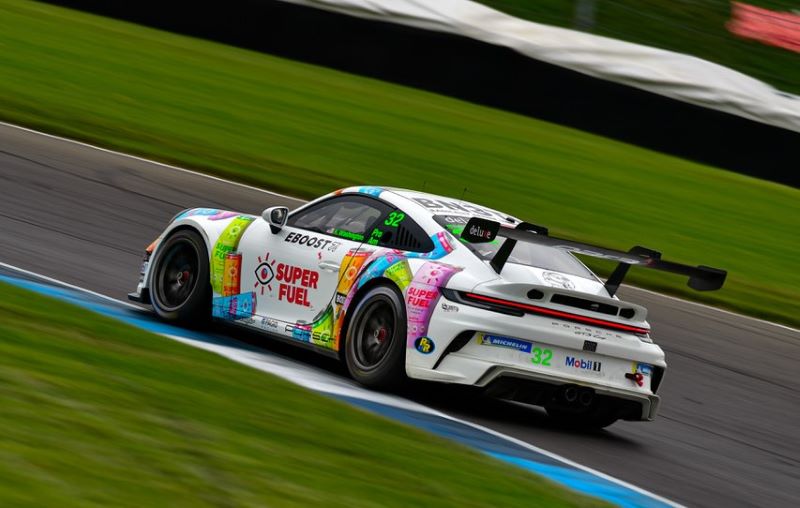 Kyle Washington leads GMG Racing's IMSA Carrera Cup effort and arrives in Monterey with the momentum of back-to-back podium finishes two weeks ago in the most recent series doubleheader at Indianapolis Motor Speedway (IMS). Washington drove the No. 32 GMG Racing Porsche 911 GT3 Cup (pictured above) to third-place Pro-Am class finishes on both Saturday and Sunday and looks to step further up on the podium this weekend at WRLS.
The GMG Carrera Cup entry also includes the No. 11 GMG Racing Porsche 911 GT3 Cup for longtime GMG Racing teammate Blake McDonald who makes his series debut. Sofronas and the team have worked closely with McDonald since he purchased a Porsche 911 GT2 RS from GMG Racing over two years ago.
"Blake has really come a long way since we first started working with him and is ready for another step in his driver development," Sofronas said. "As this is the first Rennsport Reunion in five years, and the first with Carrera Cup North America that debuted just a few years ago, Blake and GMG thought this would be the ideal venue for his series debut."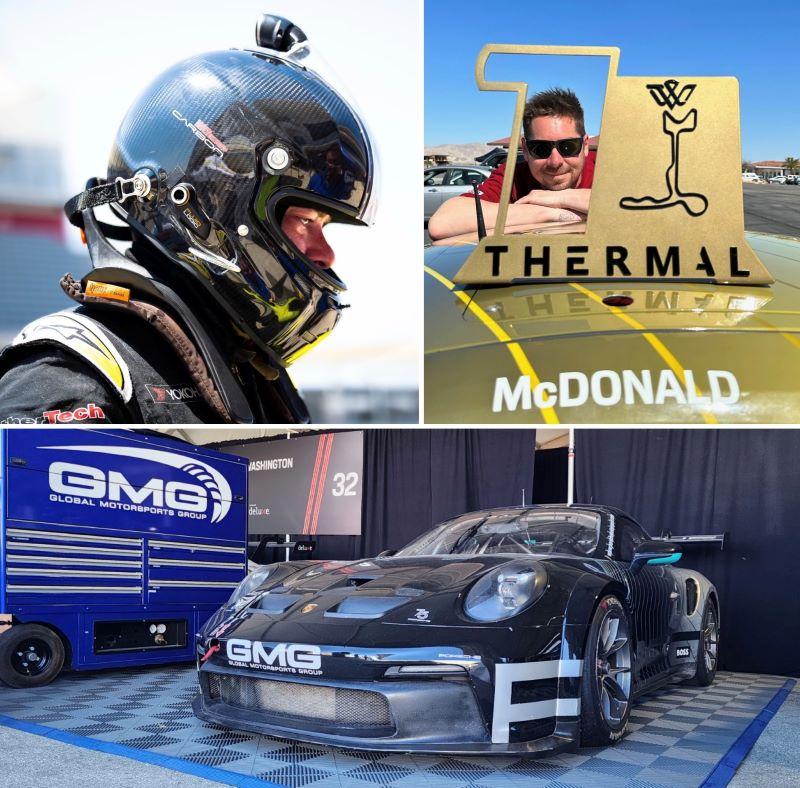 An accomplished race and championship-winning driver in his own right, Sofronas will get behind the wheel this weekend of the same 997-generation No. 14 Porsche 911 GT3 Cup car he drove to the Laguna Seca and Long Beach Speed World Challenge GT victories in 2009. The car was sold to a customer in 2010 and remained in that ownership until Sofronas purchased the car back last year. The highly-competitive Flacht Cup race at RR7 – which features pristine and period-correct 993, 996 and 997 GT Cup RSR and RS cars from around the world – has been the target event for Sofronas ever since this important part of GMG's history returned to the team in 2022.
"The guys worked hard to get that car back together since its been dormant for 12 years," said Sofronas (pictured below). "Business first, client-work first and then we worked on this one on some late nights and on the weekends. That car was my first real pro effort for a championship and is an important part of our history at GMG Racing.
"Back then, the (Randy) Pobsts and (Michael) Galatis and (Andy) Pilgrims of the world were great competitors and forced me to step up my game when I was just up and coming," Sofronas said. "Those were factory efforts and we were a small, customer team. Competing at that level meant a lot and really helped us launch our business. I'm nostalgic and it's a little emotional. I'm 55 years old now, so to look back, those were some glory years."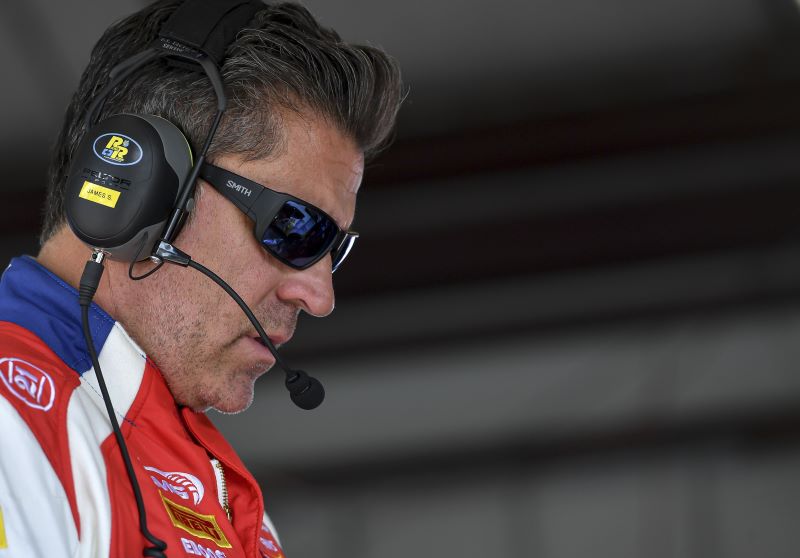 The Flacht Cup race Sunday at 2:25 p.m. PDT will be the first for Sofronas since sustaining a back injury in an incident at Road America in mid-August. Sofronas has made an ahead-of-schedule recovery but still doesn't plan to race the 997 as hard as he did when he won in the car in World Challenge competition 15 years ago in Monterey.
"I've just got to take care of my back," Sofronas said. "I'm going to take it easy in the race per doctor's orders and remember all those amazing races we had 15 years ago. I'm happy to have the car back under our stable."
In addition to the Flacht Cup, GMG Racing fields a more contemporary classic for Washington in RR7's GT Exhibiton Lap sessions. Washington will wheel his No. 32 GMG Racing Porsche 991.2 GT3R in the exhibition sessions run throughout the four days off RR7 on-track activity.
Off the track, GMG Racing products and personnel can be found at the RR7 Hagerty Marketplace in booth space No. 23 where fellow Porsche enthusiasts can talk racing and high-performance for the street with GMG Racing team members and learn about the latest GMG Racing products for the street and the track.