Bringing Double-Podium Momentum to Double IMSA Series Race Weekend at Indianapolis Motor Speedway
GMG Racing's double-podium result in the top-tier 992 class in last Saturday's Porsche Sprint Challenge USA West race at WeatherTech Raceway Laguna Seca provided some momentum for the team's double-series campaign this weekend in the IMSA Battle on the Bricks at Indianapolis Motor Speedway (IMS), September 15 – 17. Kyle Washington scored second and third place Sprint Challenge podium finishes at Laguna Seca in his No. 234 GMG Racing Porsche 911 GT3 Cup and joins the team in riding that success to a different type of doubleheader at the famous "Brickyard" this weekend.
Washington and GMG Racing will compete in both Saturday's four-hour IMSA Michelin Pilot Challenge Indianapolis Motor Speedway 240 in the No. 32 GMG Racing Porsche 718 Cayman GT4 RS Clubsport and a pair of IMSA Porsche Deluxe Carrera Cup North America races in the No. 32 GMG Racing Porsche 911 GT3 Cup.
Competing this year in multiple racing series, Washington's pair of top-three finishes in the Sprint Challenge 992 Am class Saturday on the newly repaved Laguna Seca road course build on GMG Racing's trio of podium showings in the Sprint Challenge race weekend at Utah Motorsports Campus earlier this summer.
"I was thoroughly impressed with Kyle's pace and results at Laguna Seca this past weekend," said GMG Racing Founder and Principal James Sofronas. "He could have been even higher up in the results column overall but had some issues in qualifying. He just didn't get all that he needed, but ended up setting the second fastest race lap overall of the weekend in Saturday afternoon's race. He had the pace but just needed to start further up on the grid. It shows his progress is going well forward and we are going to build on that success this weekend at Indy and when we return to WeatherTech Raceway Laguna Seca in a few weeks for the Carrera Cup at Rennsport Reunion."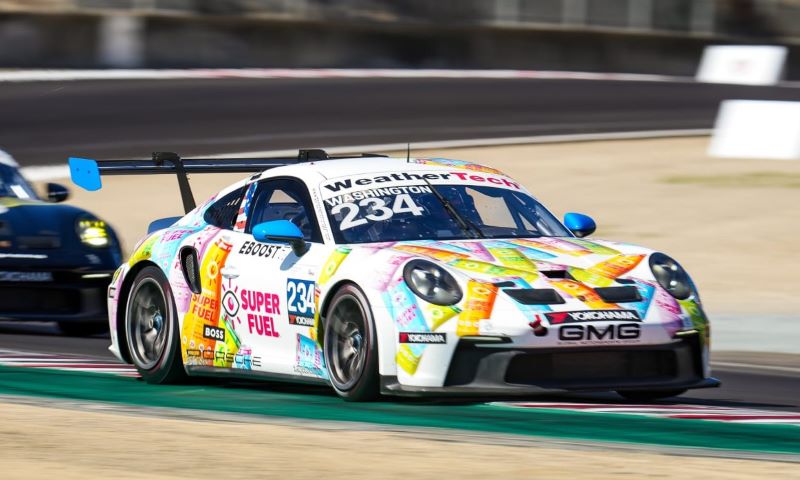 Washington challenged from the start in both Laguna Seca Sprint Challenge rounds on Saturday even though a spate of yellow flags kept green flag racing to a minimum. A lengthy caution in damp conditions in Saturday morning's first race even factored into Washington's race but ultimately didn't take away from an otherwise top day at the track. Washington moved into the Am-class lead as the race was slowed but – despite crossing the finish line first – was later dropped to second after race officials determined the pass was made just as the race went yellow.
Washington continued to fight in the Am division lead pack throughout Saturday afternoon's fast and at times frantic finale.
"I love racing with that group in the Porsche Sprint Challenge series," Washington said. "A great track last weekend with Laguna Seca and the new pavement. Kind of like Road America with its new surface, you had to be very technical, very precise, which I am probably not the best at! Like in Saturday's second race, I had so many offs but still hung in there somehow. I got a bit lucky but the car was super fast, which was good when I was on line. I am pumped, we had good pace, and one of the last laps in the final race was one of the fastest overall of the whole weekend. That gives me confidence. It felt good, and we are coming back for Rennsport Reunion with our Carrera Cup car, which we will have at Indy this week too."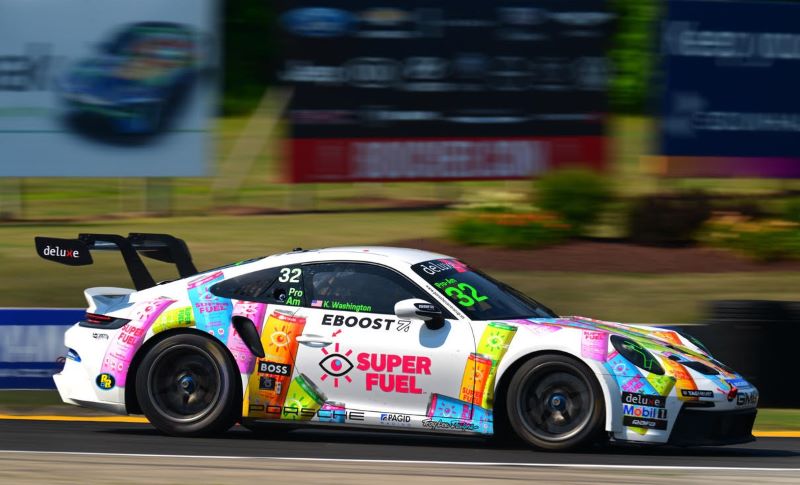 Washington also visited victory lane earlier this season in the highly-competitive IMSA Carrera Cup series, which returns to action this weekend with twin 40-minute sprints Saturday and Sunday. The GMG Racing team and Washington earned their best Carrera Cup result of the year in the opening race at the Grand Prix of Miami, improving 20 race positions to finish in the top-10 overall and third in the Pro-Am class.
This weekend at Indy, Washington and GMG Racing teammate Jeroen Bleekemolen also take part in Saturday's four-hour Pilot Challenge race in the top-tier Grand Sport (GS) class. The twilight format will see GMG Racing and their competitors take the green flag at 4:30 p.m. EDT and race into darkness for the checkered flag at 8:30 p.m. EDT.
"We are also running our Cayman Clubsport in Saturday night's four-hour GS race," Washington said. "We will have a lot of track time. There is no question that when you get more laps, you get faster, and to be able do it on the hallowed ground of Indianapolis Motor Speedway makes it really cool. Obviously, Jeroen is a pleasure to work with and he has become one of my great friends."
A race and championship-winning driver in his own right, Sofronas is recovering well from a back injury sustained in an incident at Road America last month and is making the most of his time out of the car.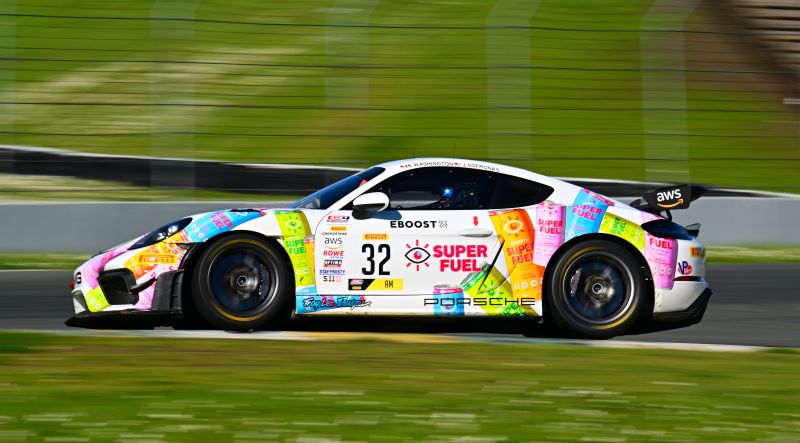 "For me, being able to step back and watch Kyle in a team owner role was impressive," Sofronas said. "This was solid success that he can carry forward, the momentum is swinging in Kyle's direction, and the GMG Racing team is working very well with him. We have four more events in the next six weeks. We return to Laguna Seca for Rennsport, and this weekend's IMSA races at Indy will be followed by the SRO weekend at the Brickyard in October. We will also compete in the Carrera Cup races on Formula 1 weekend at Circuit of The Americas in this busy stretch."
In addition to practice sessions for both series, Friday's opening day schedule for the Battle on the Bricks includes Carrera Cup qualifying at 5:30 p.m. EDT. Pilot Challenge GS qualifying takes place on Saturday at 11:20 a.m. EDT to set the starting grid for the four-hour race later that day that goes green at 4:30 p.m. EDT.
GMG Racing wraps up its Indy schedule Sunday with the final Carrera Cup sprint race at 9:40 a.m. EDT.