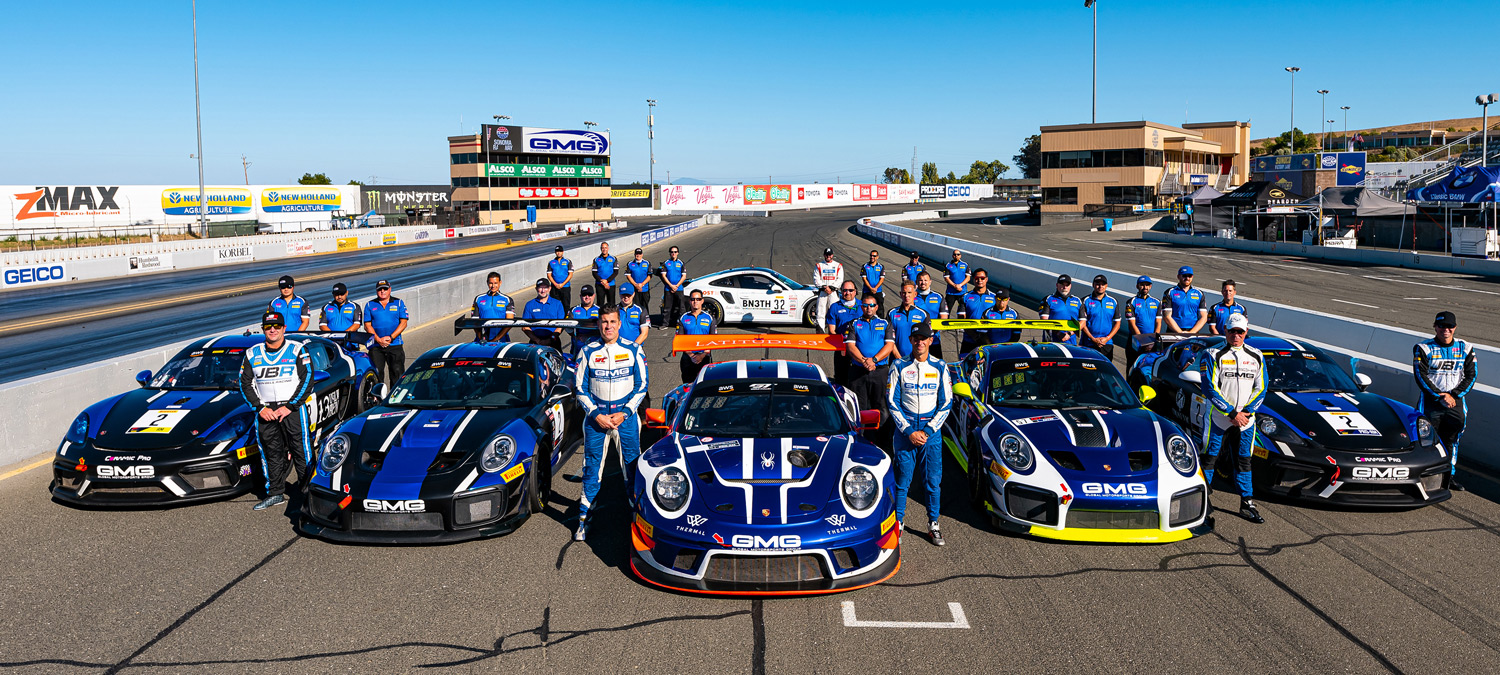 GMG Set for another Banner year in SRO with multi-car Program
At this point, the saying "2020 was a challenge" is feeling stale, but even in the racing world the cliché still rings true. While it might not seem like a new year, the calendar pages continue turning – and with them, come some exciting changes at GMG Racing. But first, we must tip our hats to the leadership at SRO who have rolled with the punches and got us back to racing safely in 2020. Thank you, from the bottom of our hearts. The upcoming year brings with it new cars, new drivers, and the chance for us to capitalize on the accrued experience we've built upon from years of racing. Success in racing is the alchemy of old and new, and it's all on tap to make the new season a promising one!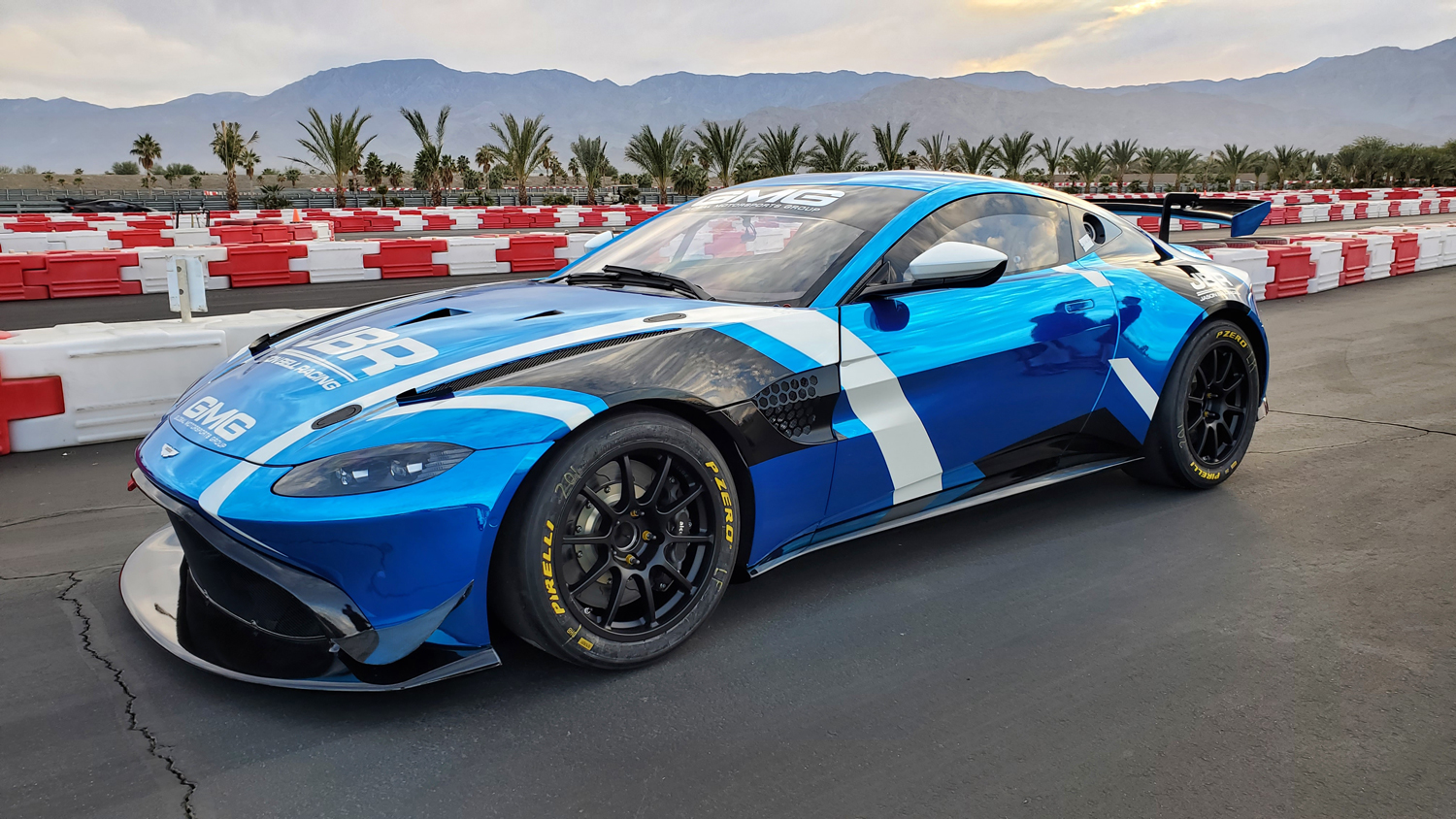 We will see the return of veteran teammates Jason Bell and Andrew Davis, who are making the leap from Porsche to the venerable Aston Martin marque; the weapon of choice for the duo in the GT4 America Sprint X series. The stunning Vantage is one of the most striking cars on the racing grid. Bell, whose runaway success in 2020 nabbed him second place in the prestigious global Porsche Cup, will also be racing the Aston, solo, in the all-new GT America sprint-style series. His gratitude to Stuttgart-based Porsche, though, is quite plain to see. "A big thank you to Porsche Motorsport for all their help and support over the past seasons," Bell humbly explained. "Without their expertise and knowledge, we would have never been able to achieve the success we did." On the upcoming season in the Aston Martin, Bell and Davis both ooze with excitement and praise. "We battled hard all year long with the Aston Martins during the 2020 season, so I'm very familiar with the capabilities of the car. We had a very successful season with GMG Racing, and it's a huge benefit to be returning with the same core group, for consecutive years…we'll be in the prime spot as championship contenders in 2021!" Davis exclaimed.
Speaking of consecutive years, two teammates returning to the GMG fold this season are Elias Sabo and Andy Lee. Brimming with confidence, they'll be piloting the Audi R8 LMS GT4 EVO in GT4 America SprintX, with Sabo also tackling the GT America solo series in a second GT4 EVO from Audi. They've been putting in the hours in the winter off-season, and we're excited to see their hard work pay dividends. "Elias and I have been working together for a few years now, and I'm proud of the progress we've made. The Audi gives us such a well-balanced platform, and with the GMG crew, so we've got a good shot at a podium at any given race," Lee assured.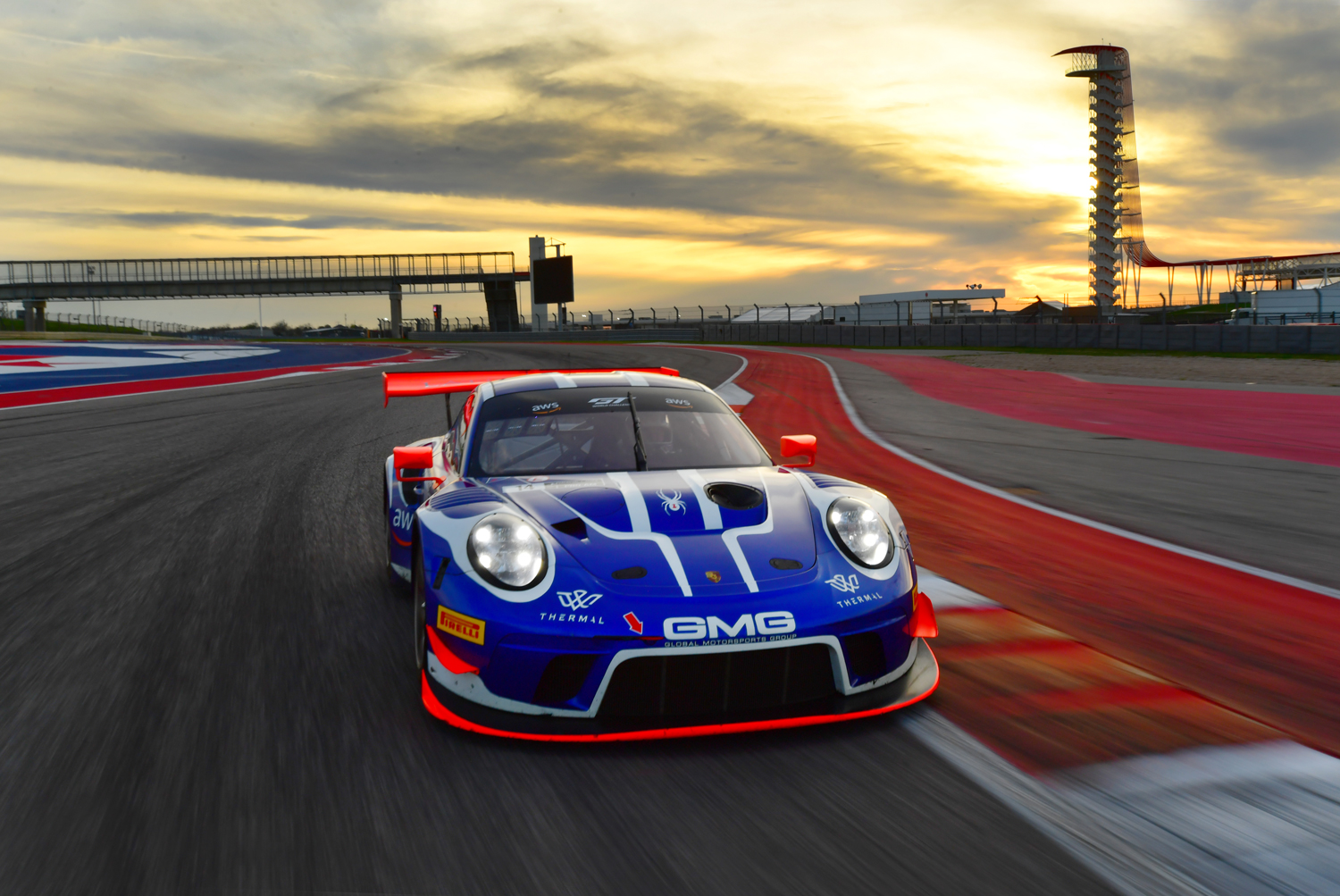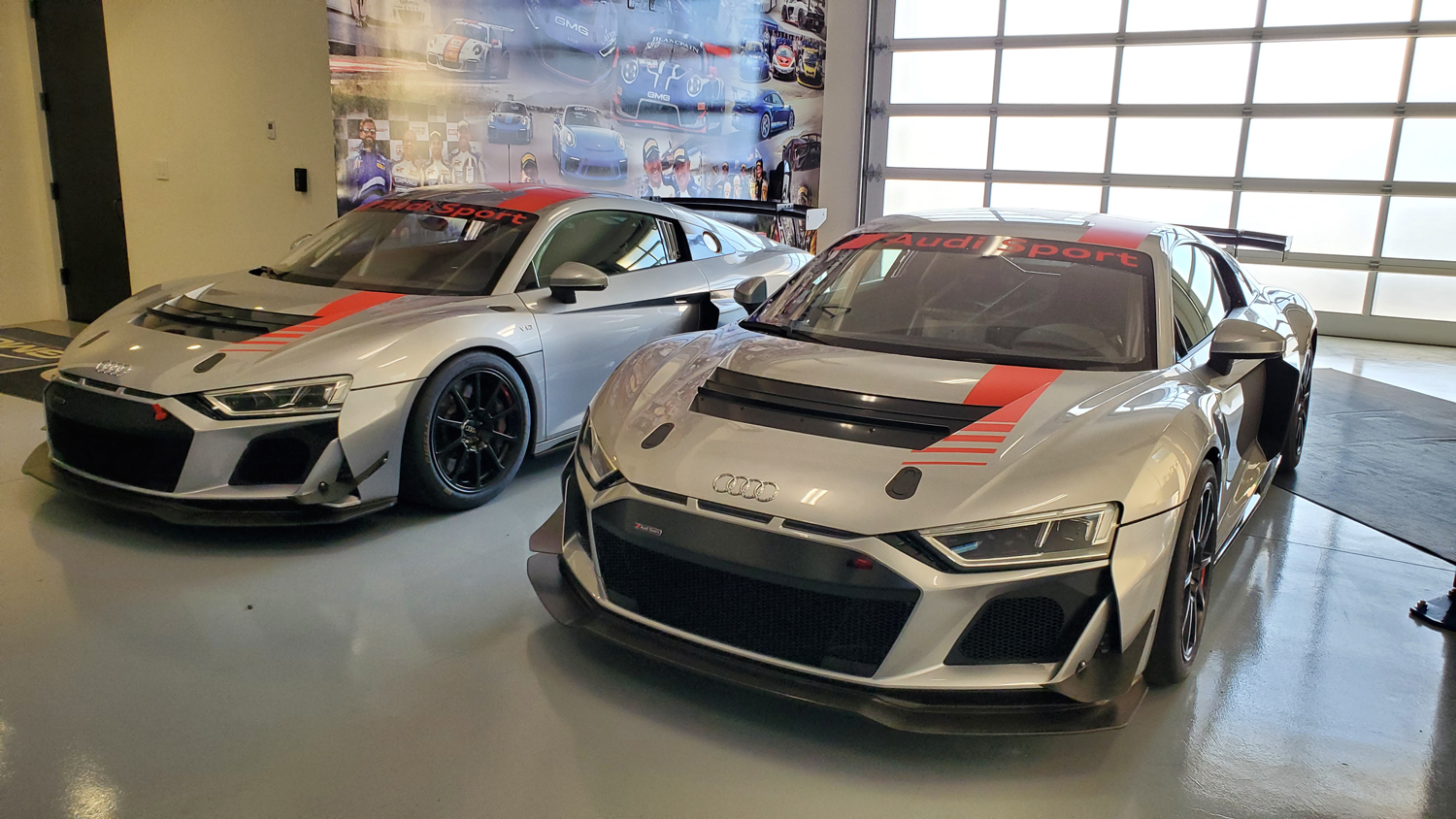 New to the GMG Racing GT America roster in 2021 are talented series rookies Kyle Washington and Jason Nolan. Washington, a newcomer to racing, won't allow his lack of experience hold him back. His aptitude for learning is clearly evident as he continually improves his lap times at the track under the tutelage of the GMG team. We're excited to see what heights he can reach in his new 911 GT3R at select events this season! And, while Nolan is classified as a series rookie, his prior experience racing gives him a huge leg up in his new Audi R8 LMS GT4 in the GT America series. After bearing witness to some winter testing, we know he's sure to be quick this year; primarily at the Circuit of the Americas, with possibly more races to come. "GMG Racing's championship-winning history with Audi speaks for itself," he said. "I'm excited to be racing in the GT America series with the team."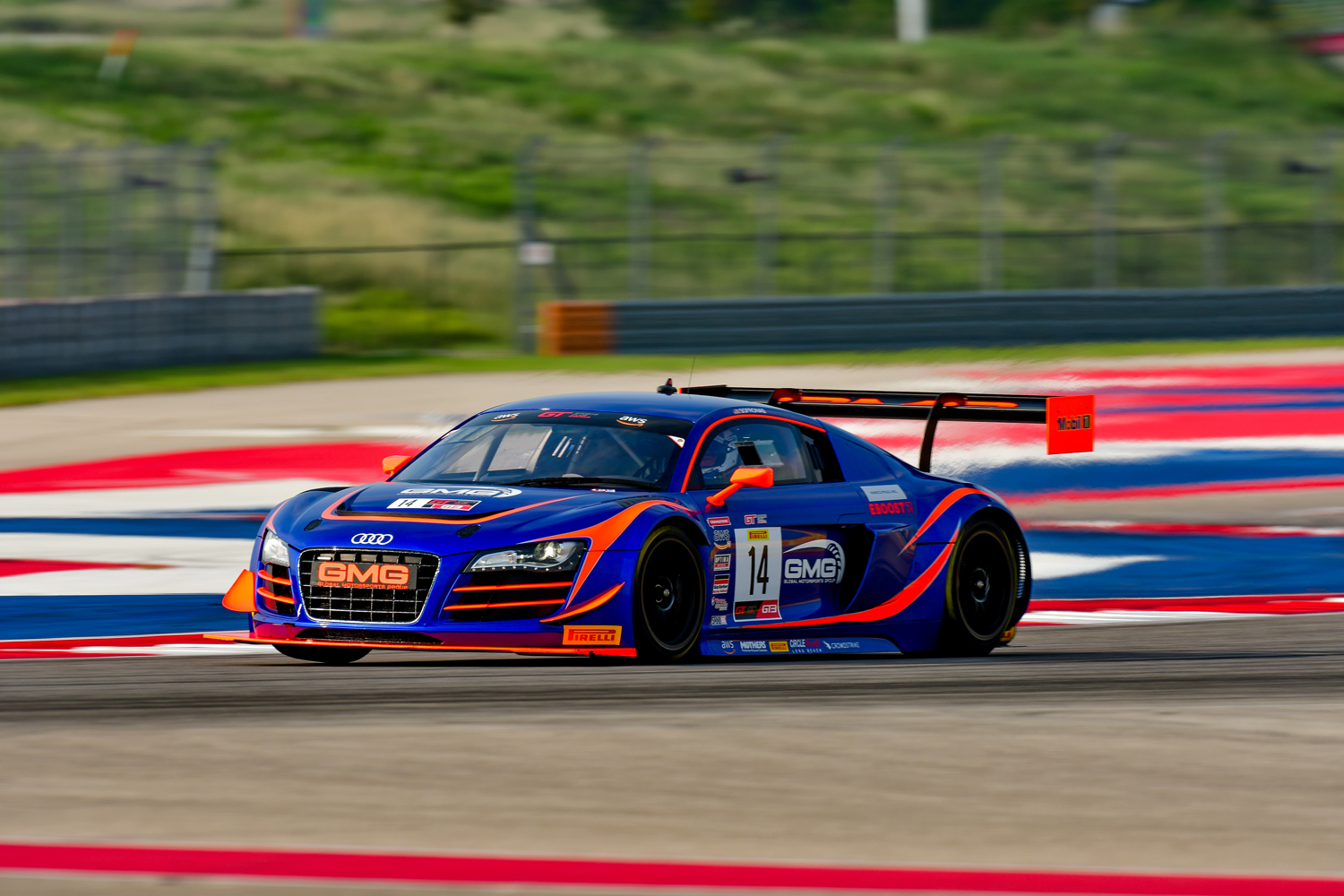 Series veteran and team owner James Sofronas will once again, as always, be steering the ship this season, in addition to racing in select GT America events with his Audi R8 LMS Ultra as well as the GT WCA. As he begins the healing process from shoulder surgery, we know his insatiable passion for racing ensures he won't be out of the driver's seat for too long. Like the rest of the team, his excitement and gratitude around the upcoming year is easy to understand. "2021 will be another banner year for our program. I'm excited for our great customer lineup and looking forward to working closely with each driver this season. I am also excited to announce the addition of Marcus Haselgrove to GMG, as our Team Manager for the upcoming season. He brings a wealth of knowledge and experience to our program. I have known Marcus since our Championship run in the Audi R8 LMS Ultra back in 2013 as was instrumental in our success that year with the Audi Brand. Marcus shares that same excitement as he looks to take on the new roll with the GMG Racing program, "I am tremendously excited to join GMG as their Team Manager. During my tenure with AUDI, we worked closely with GMG, and that relationship was instrumental in introducing homologated GT3 cars into Pirelli WC (Now SRO). Their organization captured the 1st American GT3 win, 1st American GT4 championship, with continued success across multiple manufacturers and GMG has a world class portfolio of Race Technicians, Engineers and logistics staff within their racing program.
Haselgrove will work closely with Joe Foster, Logistics Dir. for GMG, and continue to elevate the profile of our Racing Program. Joe has been a key ingredient in the growth of our customer program as his impact has really been felt by the clients who he serves as well as the team. I am very fortunate to have Joe as part of this team and now he and Marcus will really bring this program to greater heights, stated James.
With racing almost upon us, we'll be hard at work testing at the Thermal Club as well as some other local California Tracks. It might still feel like the off-season, but the Season will be here before we know it! We can't wait to get the season started at the inaugural event in Sonoma! Be sure to stay tuned to our social channels this year – it's shaping up to be an exciting one!
PR/Media Inquiries: Joe Foster (joe@gmgracing.com)
About The Thermal Club
Established in 2012, The Thermal Club is a private motorsports country club surrounding one of the longest and most distinct racing circuits in North America. Located near Palm Springs CA, the exclusive club offers members access to three racetracks, kart track, autocross, skid pad, tuning shop, garage, detail shop, clubhouse restaurant and spa. One of the defining attributes of The Thermal Club are the luxury villa-homes that are built next to the track and overlook the facility. For more information visit www.TheThermalClub.com.
Learn more at www.thethermalclub.com
About Mobil 1
Conventional oil is simply refined crude oil. Mobil 1 synthetic oil, however, is not only refined, but it is also distilled, purified, and broken down into its basic molecules. It is then rebuilt and added to, so that it can better protect against wear, high heat, cold weather and sludge buildup. Ultimately, this process helps your car's engine run better for longer. You can explore more about these benefits below.
Learn more at www.mobiloil.com.
About CrowdStrike
With an extensive client base of leading global brands, CrowdStrike will be utilizing the Pirelli World Challenge as a hub for experiential entertainment, B2B networking, and as a forum for meeting with a litany of customers, prospects and partners. Race weekends will include executive-level security industry roundtables, combined with VIP access to the most compelling aspects of each racing venue. With a premium on forging and solidifying relationships, the utilization of both the series and GMG offers a great opportunity for the company to extend their platform.
You can learn more about CrowdStrike's involvement in motorsports at crowdstrikeracing.com.
About 5.11 Tactical
5.11 Tactical. 5.11 Tactical is an Irvine, California-based brand of clothing consisting of uniforms and tactical equipment for military, law enforcement and public safety personnel. The company also operates a chain of retail stores, with 13 locations as of January 2017.
Learn more at www.511tactical.com.
About AWS
In 2006, Amazon Web Services (AWS) began offering IT infrastructure services to businesses in the form of web services — now commonly known as cloud computing. One of the key benefits of cloud computing is the opportunity to replace up-front capital infrastructure expenses with low variable costs that scale with your business. With the Cloud, businesses no longer need to plan for and procure servers and other IT infrastructure weeks or months in advance. Instead, they can instantly spin up hundreds or thousands of servers in minutes and deliver results faster.
Today, Amazon Web Services provides a highly reliable, scalable, low-cost infrastructure platform in the cloud that powers hundreds of thousands of businesses in 190 countries around the world.
Learn more at https://aws.amazon.com/
About EBOOST
In 2007 Josh Taekman and John McDonald set out to find a cleaner way to fuel their busy days, and today EBOOST is changing the way people energize, replenish, and feed their well-being. EBOOST is for people who live to do more every day—who thrive on the go and always have a new goal on the horizon. We create products that help you take on the day—wherever the day takes you. Keeping it clean is everything. We don't compromise because you shouldn't have to. And we plan to push harder and go farther to keep you bold, focused, and naturally driven.
Learn more at https://www.eboost.com/
About BN3TH: RADICALLY BETTER UNDERWEAR
We started BN3TH in Vancouver, BC, to radically change how men think about underwear. No one performs at their best when they're adjusting. Or shifting. Or sweaty. We were the first to create underwear with a three-dimensional pouch, and our patented MyPakage Pouch Technology™ remains the key to our uniquely supportive fit. We engineer underwear and base layers that keep you comfortable for full days on the mountain, on the water, in the gym or in the office. Over time, we evolved as a company to begin championing a full range of apparel for any and every consumer, endeavour, occasion, climate and style. We work hard to minimize the environmental impact of our business and contribute to causes that help preserve our planet.
Learn more at https://www.bn3th.com/