GMG's James Sofronas Highlights Long Beach Weekend with Victory; Udell Impresses in GT Debut
Competing at one of the most storied venues in all of motorsports, Global Motorsport Group's (GMG) James Sofronas would highlight the team's weekend with a class-victory during today's Grand Prix of Long Beach, the second round of The Pirelli World Challenge. Not to be outdone, teammate Alec Udell would also impress in his GT category debut, taking seventh overall after going wheel-to-wheel with some of the biggest names in the sport.
"This was an incredible weekend for the whole team," stated Sofronas. "While of course I take a lot of satisfaction in the victory, I'm honestly most encouraged with our overall performance all weekend. A top-10 overall is really tough with the level of competition in the series, but we were able to deliver just that for both cars. Alec in his 'pro' debut in the GT category couldn't have been more impressive. These are some of the biggest names in the scene and he was completely un-phased, which shows just how talented he is. Overall this is a complete testament to all of the guys here, as we've really made a lot of progress with our Porsches and it's great to reap the rewards. To do it in front of our home crowd is even sweeter."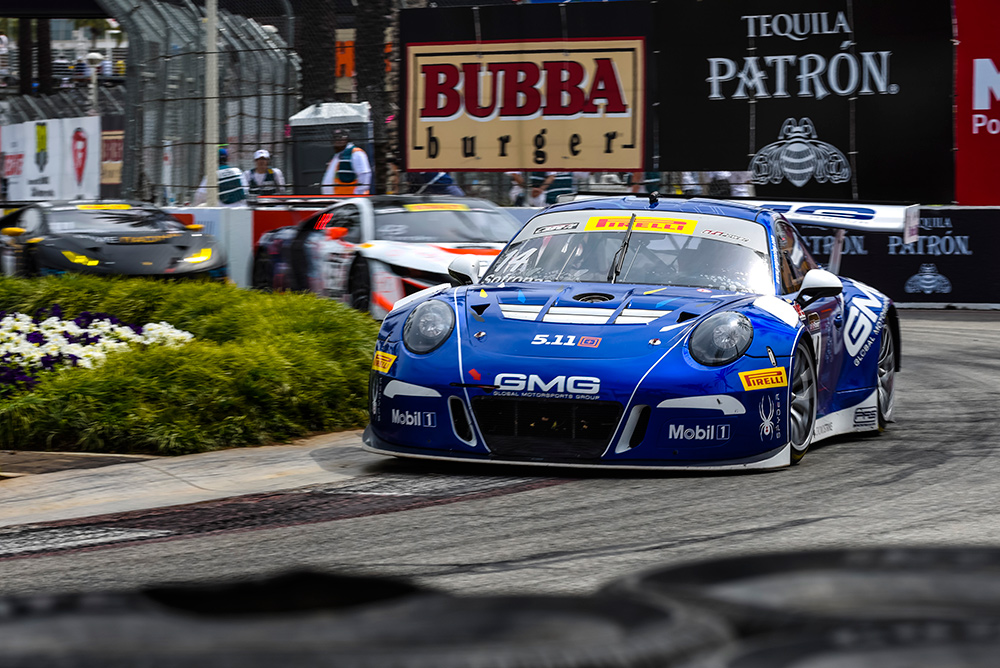 Driving in the series' GTA category, Sofronas came in to the weekend as a clear contender for victory in the No. 14 Mobil 1 / The Thermal Club / 5.11 Tactical Porsche 911 GT3 R. Throughout the weekend's practice sessions, the Southern California local repeatedly proved fastest in class, rewarded during Saturday's qualifying session with pole position. By time race day came, James' pace was immediately evident, however what set his weekend apart from previous rounds was his speed relative to the faster-ranked GT category. Avoiding first-lap calamity in the field around him, Sofronas threatened for a Top-10 overall throughout his run, ultimately capitalizing on an incident in front of him which would result in not only a GTA-class victory, but a 10th place finish overall.
This would rank as Sofronas' third victory at Long Beach, and in front of a home crowd of over 100,000; showcasing the talent and depth of the team.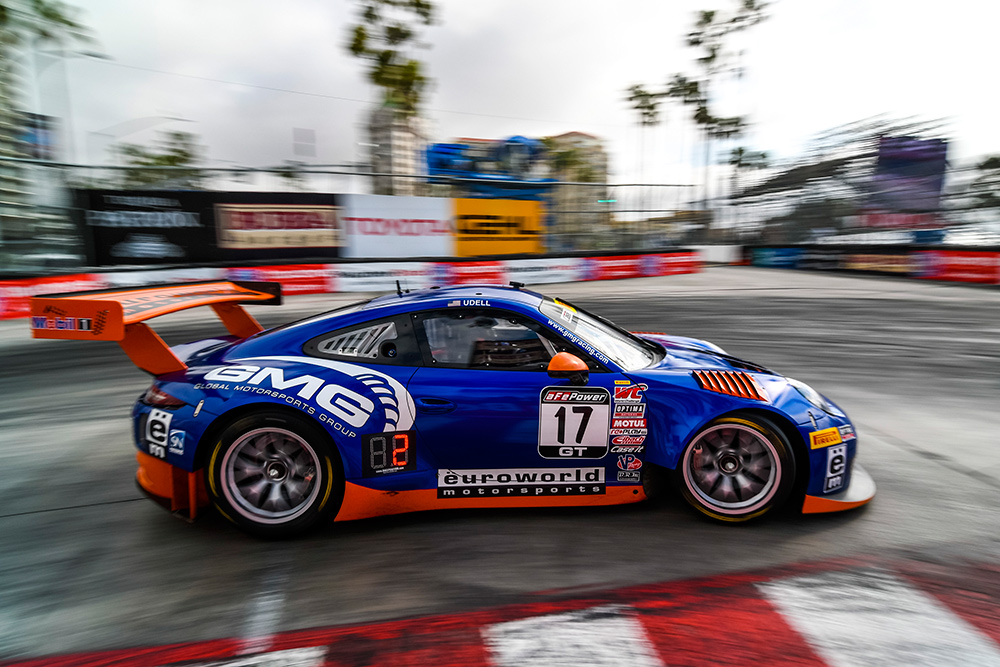 In the GT category, team development graduate Alec Udell once again impressed with a seventh-place finish. Having been bumped up from the GTA ranks after a dominant performance in St. Petersburg, the Clemson University Engineering student took his first turn ranked equally with some of the biggest names in the sport, including an international roster of factory-hired drivers.
For the 20-year old, a fairly quiet weekend in the No. 17 Euroworld Motorsports Porsche 911 GT3 R was actually the theme of his event. Running within the Top-10 throughout practice, Alec would qualify eighth for the race, the second-fastest Porsche and out-qualifying multiple factory drivers. During the race, Udell would once again demonstrate the experience of a veteran, avoiding first lap chaos, and engaging in a race-long battle with multiple marques for the entire race. The biggest adventure for Alec came in the closing laps when, battling with multi-time series champion and former LeMans winner Johnny O'Connell, a hotly contested battle for position ended in tears for O'Connell, with the Cadillac factory-driver making a daring move on Alec resulting in contact, ultimately putting O'Connell in to the wall but with Alec able to continue to seventh.
For Udell, yet another strong performance demonstrates his place among the top in the series.
"I'm extremely happy with the weekend," stated Udell. "We knew the competition would be strong, and at an event like Long Beach you have so little time to practice that you have to maximize everything. Luckily, GMG did an incredible job getting us prepared as well as showing up ready, and coming in on top of the weekend was critical. I couldn't be more thankful to Euroworld Motorsports for making this entire project possible, Frank Lee and everyone in the organization have been instrumental, and we know we can only get better."
With another great weekend behind, the focus now shifts to the first SprintX event of the year, taking place at VIRginia International Raceway in just three weeks' time. As the first multi-driver race of the year, Sofronas will welcome co-driver Laurens Vanthoor to the fold, with Udell joining Preston Calvert and his Calvert Dynamics organization, which will run under the GMG umbrella. Practice begins on Friday, April 28, with races running throughout the weekend of the 29th and 30th.