Despite the weekend being cut short by a deluge of rain on Sunday afternoon, Global Motorsports Group (GMG) would walk away with two victories throughout multiple races during this weekend's Pirelli World Challenge rounds at the famed Canadian Tire Motorsport Park. While James Sofronas and Laurens Vanthoor would win their category during Saturday's SprintX round, the standout of the weekend would be George Kurtz in the series' GTSA category, taking back-to-back podiums on the weekend as well as a victory on Sunday. Preston Calvert and Alec Udell would also show well in SprintX, taking sixth in class.
"I couldn't be happier for George and everyone in our McLaren program," stated GMG team owner and co-driver James Sofronas. "After our struggles in Virginia we wanted to rebound stronger, and we accomplished just that. The series has done a great job with the structure of GTS racing, and it's given someone like George an excellent opportunity to jump in and perform. Two wins in succession is a great accomplishment and one I hope he remembers for a long-time. For our SprintX program, our No. 14 Porsche performed beautifully as always. The guys have it really sorted out, and Laurens was excellent as always moving it up to the front. The No. 77 Porsche also showed really well, with Preston outrunning some really big names and Alec showing competitive as always. There's not a lot of time to turn everything around for Lime Rock, so we're excited to get right back to it."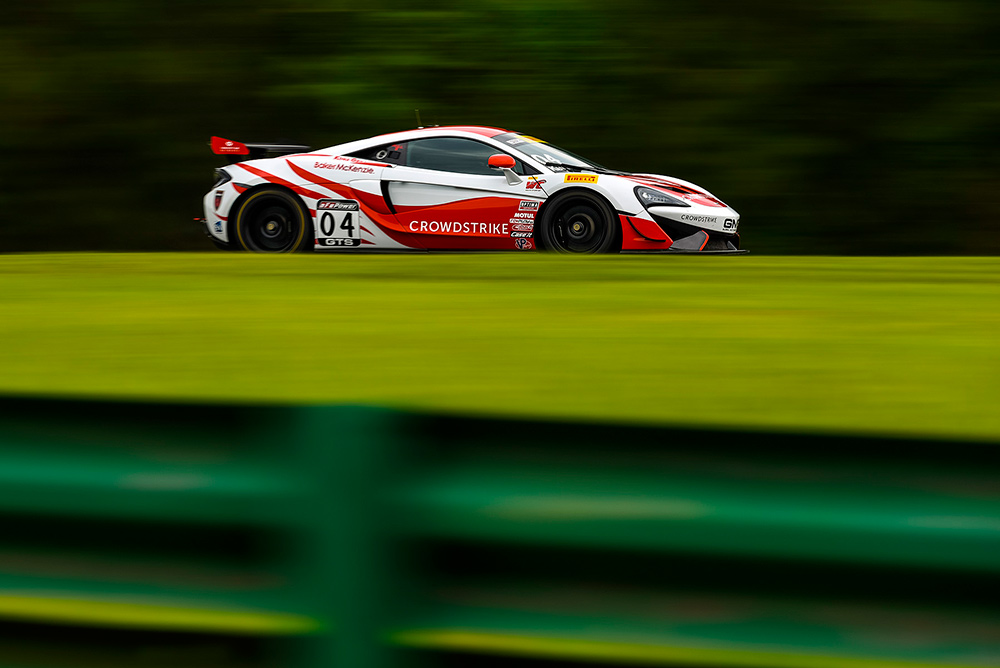 Running the worldwide spec "GT4" category of racing cars, the weekend would kick off with the series' famed GTS series, with GMG supporting the No. 04 CrowdStrike McLaren 570S GT4 of George Kurtz. Taking to the 10-turn, 2.46-mile like a veteran, the instant adaptation of both driver and car was on hand during practice, repeatedly setting some of the fastest times.
During Saturday's Race One, the Californian would start second in class, running fairly unchallenged throughout his run, pushing hard to keep up with the GTSA category leader. Unable to pass, the pace of the car was evident, finishing Race One just 0.7 seconds behind the leader.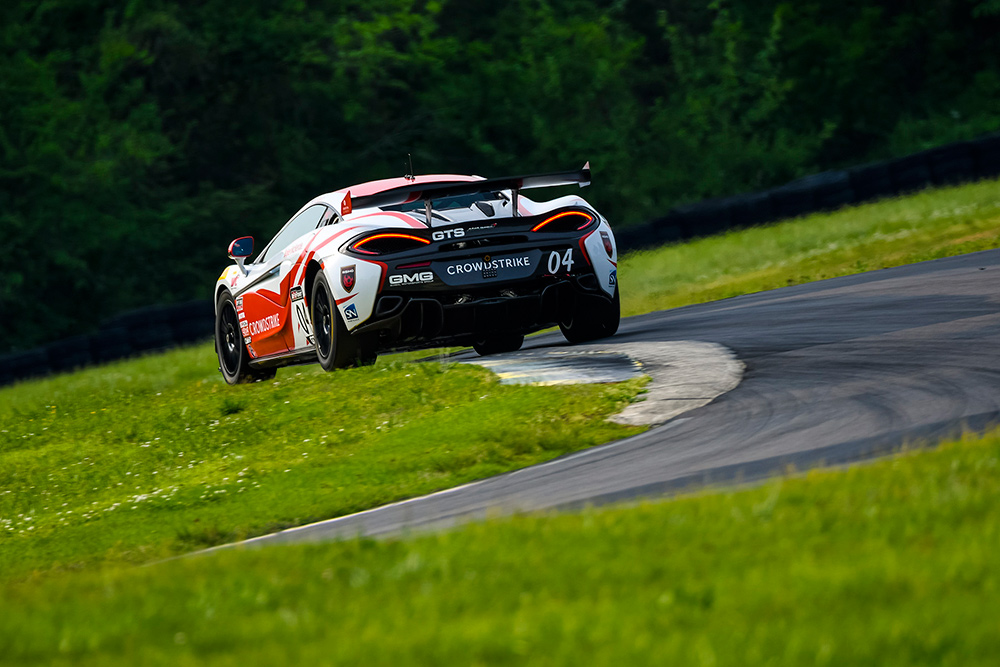 During Sunday's Race Two, Kurtz's fastest lap in category would put his McLaren on pole position, taking the lead in to Turn One and never looking back. Setting his own pace, George would enjoy another trouble-free run, not putting a foot wrong as he cruised to victory.
Additionally, Kurtz would be entered in the GTSX category of the weekend's SprintX rounds with co-driver Kenton Koch. Unfortunately early contact on Saturday would force them to retire, and Sunday's weather would force the cancellation of the race outright.
"It was a bittersweet weekend for sure," stated Kurtz. "Our GTS races were as good as we could have asked. After a rough weekend at VIR, coming out to Canada was a perfect remedy. Everyone at GMG did a great job rebounding. The car was well prepared, extremely fast, and extremely comfortable. Coming back with two different trophies is fantastic. Obviously I would have preferred a better race for Kenton and I in the SprintX round, but we'll just have that much more to prove when we come back."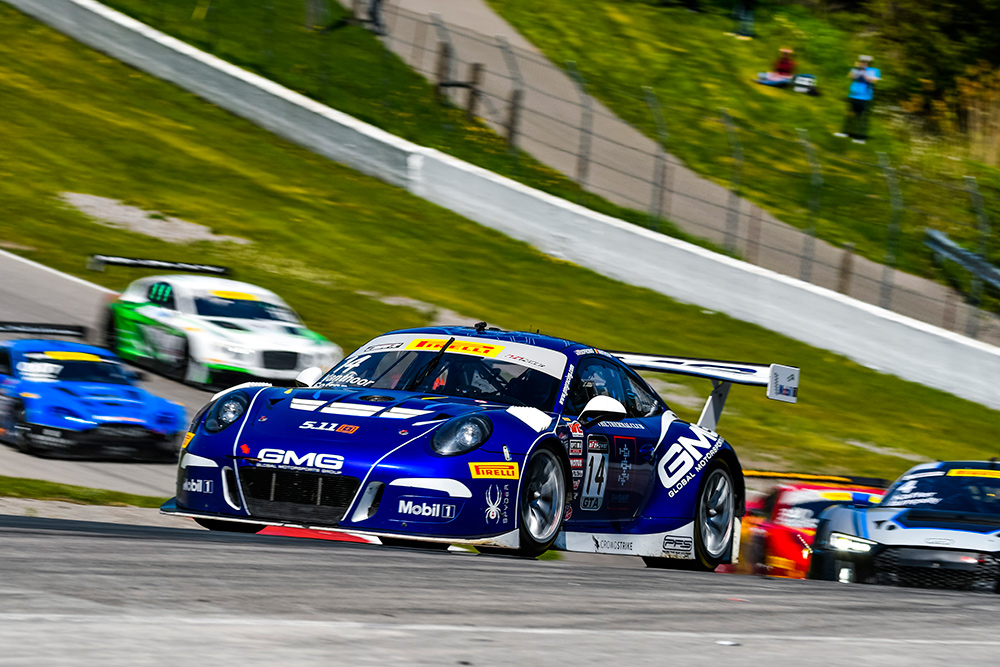 Leaving where they left off in the two-driver SprintX format, James Sofronas and Laurens Vanthoor would once again show incredible strength during Saturday's Race One. Driving the No. 14 5.11 Tactical / Mobile One / The Thermal Club Porsche 911 GT3 R, the duo would start the 60-minute race from third in class, with Sofronas behind the wheel. Knowing that they had a car capable of winning, James would run an excellent opening stint, holding pace with the lead pack throughout the opening 25 minutes, ensuring they had strong track position for a car without a scratch on it.
Once the pit window opened, the team would waste no time getting Vanthoor, a factory driver for Porsche, behind the wheel. Between an opportune yellow and strong driving from the Belgian, the team would advance to the class lead as the race shuffled through, with Laurens simply managing his time to the end and ensuring the team took victory. It would serve as the first official victory for the team's SprintX efforts, in what would ultimately be Vanthoor's last scheduled race for the team.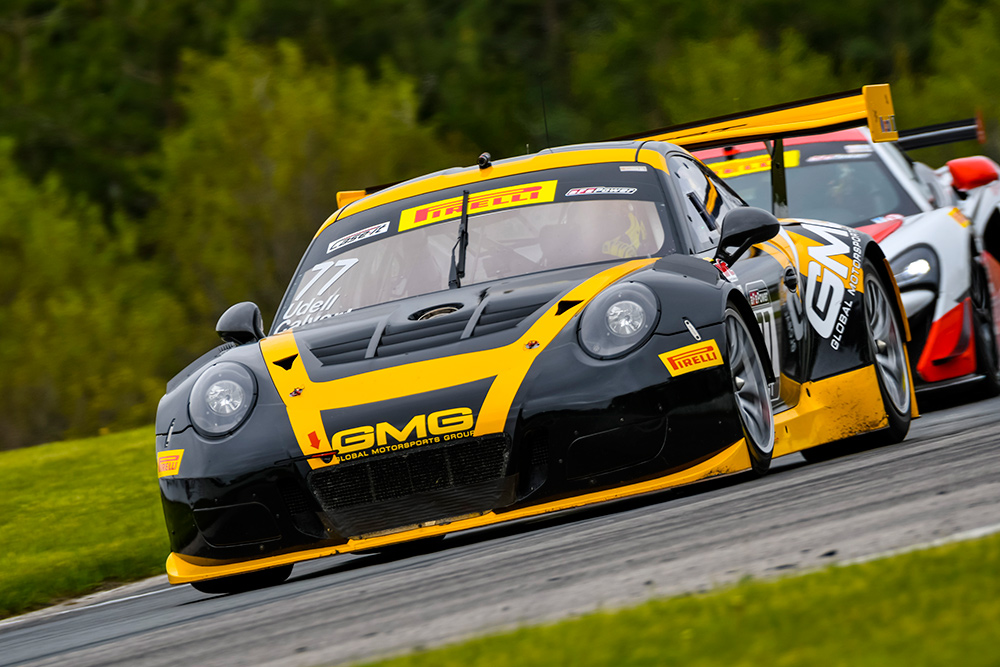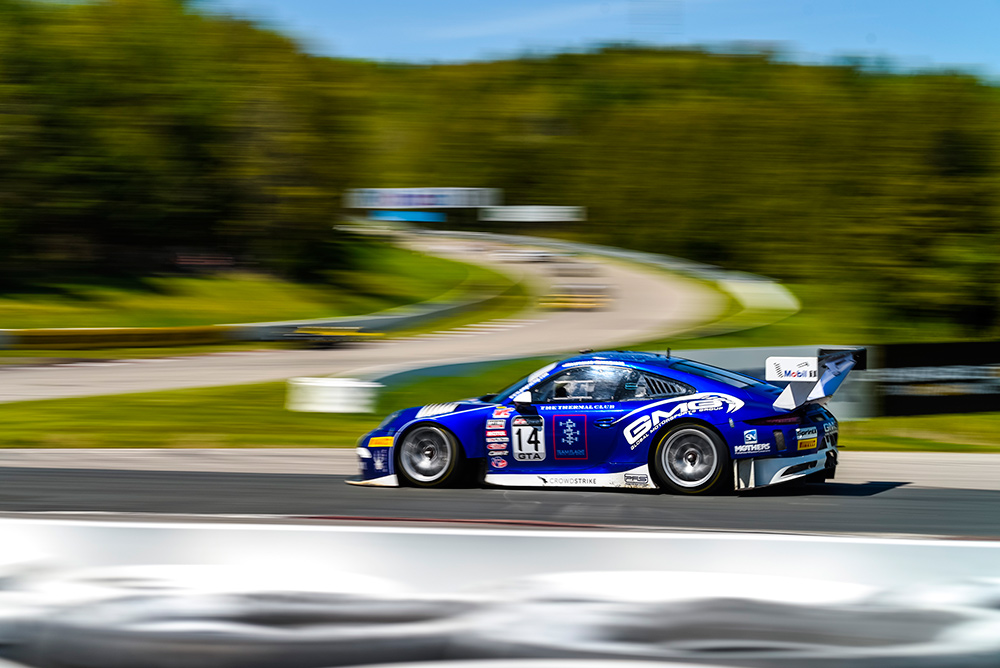 In the No. 77 Calvert Dynamics Porsche 911 GT3 R, just arriving was a task all in its own. Following an incident in Virginia, the team, in concert with Phoenix Performance, had a very busy three weeks getting the car turned around. Rewarding the team for their efforts, Preston Calvert would run a very strong qualifying session, pushing his Porsche to sixth in class. Holding station throughout his opening stint, Calvert would run consistent laps without incident for the first 25 minutes. Pitting for teammate Alec Udell, the GMG development graduate would take the reigns to close out the race, running a steady pace without incident. Unfortunately, due to a yellow flag procedure, the team would find themselves like many others a lap down as a result of the caution period combined with pit stops. With the layout of Canadian Tire Motorsport Park being notoriously difficult to pass at, the Woodlands, Texas native would focus on avoiding incident and trying to set the fastest lap that he could for Sunday's Race Two. Alec would ultimately finish seventh in class.
"It's disappointing that Sunday was rained out, but it was the right call," stated Udell. "I think we did as good of a job as we could this weekend. Everyone on the team and Phoenix Performance did an excellent job getting the car ready for the weekend, which was an accomplishment all in its own. This is always a tricky venue because a mistake can be very costly, so we knew in Race One that we wanted to just have a steady race and set ourselves up well for Sunday. Preston did an excellent job and our pace seemed to be in line, we'll take what we learned on to Lime Rock, I'm looking forward to it."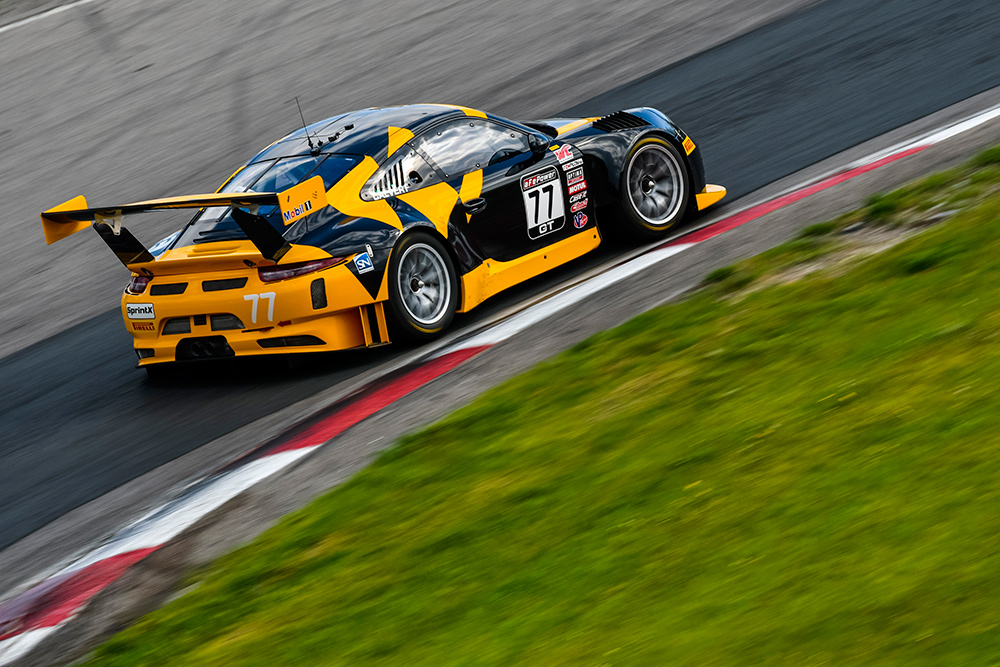 For Preston Calvert, the effort to get to the race as something very appreciated.
"Sunday was unfortunate, but they made the right call," stated Calvert. "The car arrived absolutely flawless, and that's a great testament to Porsche Motorsport North America and the help we received from Phoenix Performance. All things considered, Saturday was a good race. I was much closer to the lead pace, staying in the mix, which should have positioned us well. Unfortunately we got caught out by the pit window and yellow flag procedure, but I'm confident that moving forward the series will find a different approach. Alec drove very well, and we should all be proud of the weekend."
The next round of Pirelli World Challenge competition is only days away, heading to the notorious Lime Rock Park. At 1.5 miles long, the track is known for intense racing and calamity, with another double-header of SprintX competition in store. Race One will take place on Friday, with Race Two on Saturday. A full schedule of events will be announced shortly.