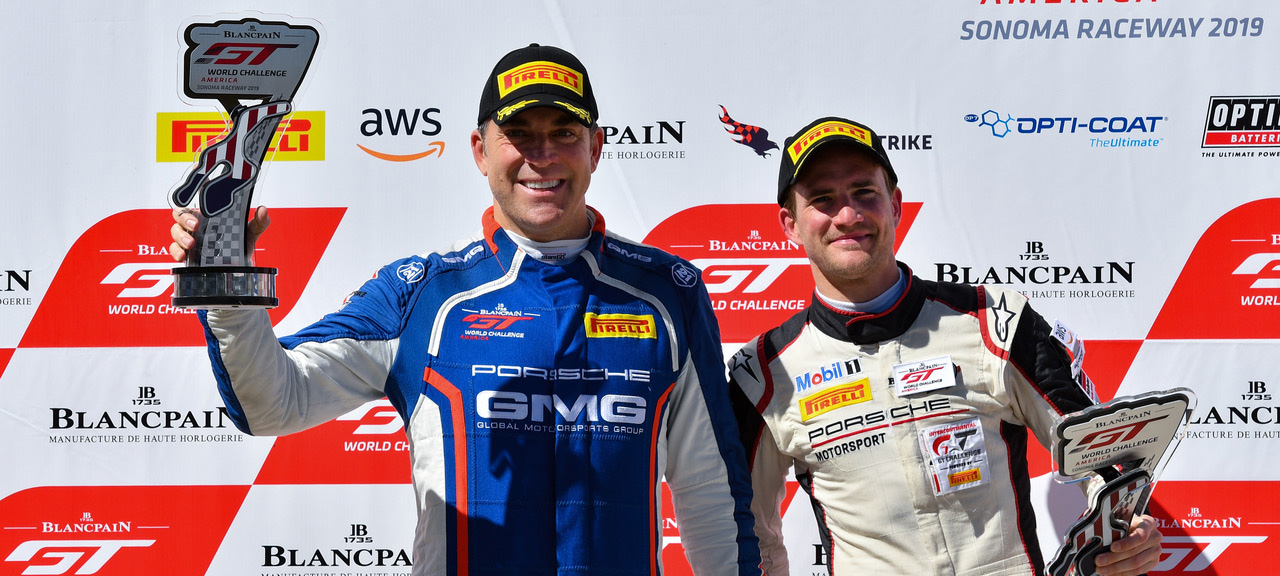 Two Wins, Four Podiums Highlight GMG Weekend In Sonoma
Kicking off the busy summer season with a return to their home state, a pair of victories would highlight Global Motorsports Group's (GMG Racing) latest round of SRO competition at Sonoma Raceway, taking four podiums among three entries, including a win for the team's new Porsche 911 GT3 R. In the GT4 SprintX category, Jason Bell would take his first series victory with teammate James Sofronas, while Sofronas and Porsche factory driver Dirk Werner would drive their 911 GT3 R to a win in GT3 Pro-Am. Bell would also run competitive in the GT4 America Sprint category with a pair of sixth-place finishes.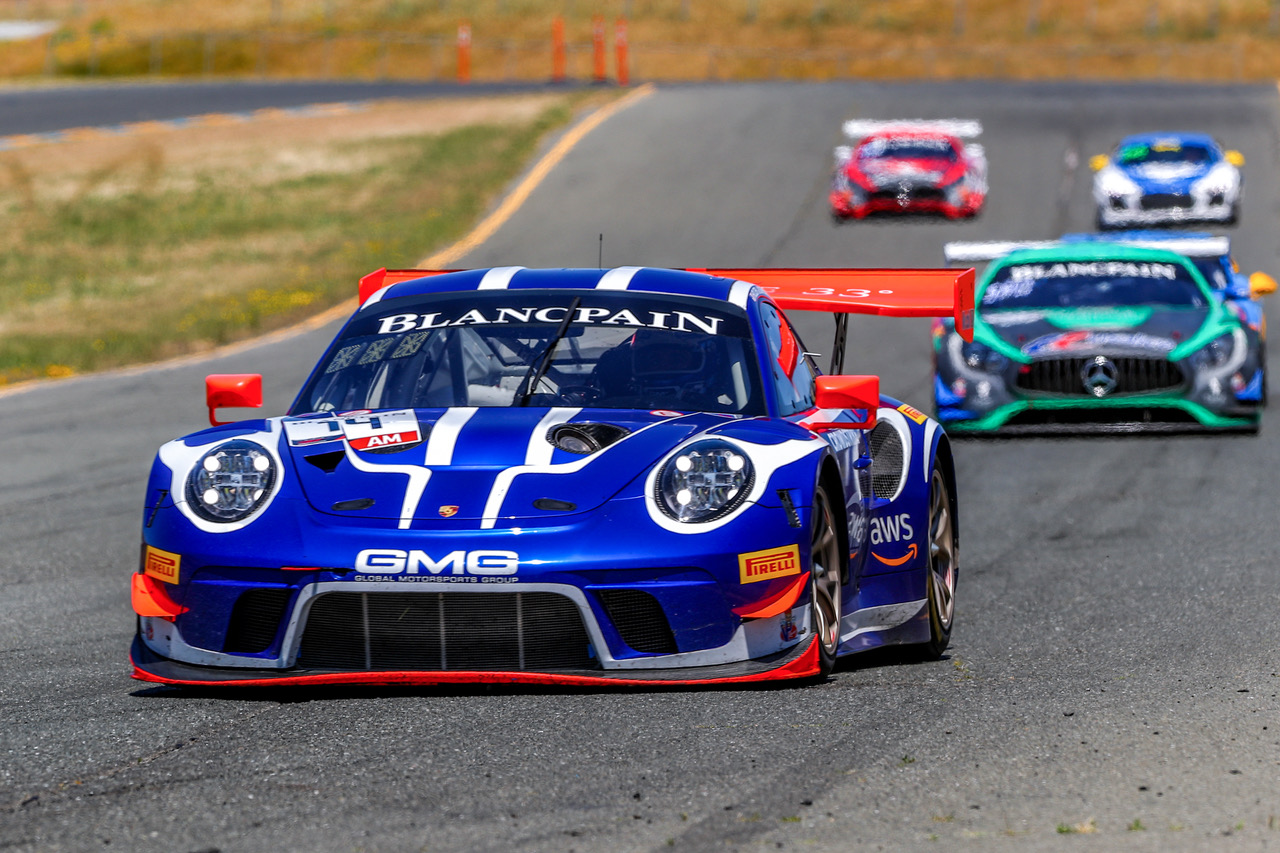 "This was a great weekend for the entire team," stated GMG team owner and driver James Sofronas. "As we kick off the summer season, our team was in full swing with six races on our plate, and to walk away with two wins and four podiums is continued proof of the team's depth. GMG has celebrated a rich history with Porsche Motorsport North America, and the race at Sonoma was a perfect celebration of that. We were grateful for the presence of Dirk, and delivering a win was a great return on the support. Similarly, it was great to finally get Jason Bell a victory, he's been very deserving and working so hard to get the results we all knew were there. Of course for me personally it was incredibly satisfying as well. To drive four races and score a podium in all of them, let alone two wins, is a great shot of momentum heading in to the rest of the year."
With factory driver Dirk Werner joining the team for the weekend, GMG would once again take the opportunity to a reflect on a long-standing history of success with Porsche Motorsport North America. With many of the teams origins setting back to Porsche machinery, some of the team's greatest successes go back to the marque, including a 2017 series championship, 2009 manufacturer's title, and victories at some of the most signature events including the Grand Prix of Long Beach. As the premiere service center for aftermarket performance on Porsche street machinery, the team's connection between track and street performance is unparalleled.
In the Blancpain GT World Challenge, GMG would once again return with the No. 14 Porsche 911 GT3 R. With the tight and twisty confines of Sonoma Raceway providing a constant challenge for the GT3 machinery, James would start the race in a strong position, battling for a podium position before handing his machine over to Dirk for the end. Werner would hold his own and bring home a podium finish in third.
For Sunday's Race Two, a reversing of driver orders would result in a top finish for the team. With Dirk doing an excellent job of starting the race in a podium position, it was Sofronas's closing laps that would secure the victory, with James battling hard with another Porsche to ultimately grab the lead on the penultimate lap through the treacherous Turn Six, and cruising from there to bring home the team's second victory of the weekend.
In the Pirelli GT4 America SprintX category, James Sofronas and Jason Bell would once again re-unite for the two-driver format. Campaigning with the prolific No. 2 Audi R8 LMS GT4, Jason Bell would take starting duties for Saturday's Race One. Making a clean start and with the mindset that a clean opening stint was critical, Bell would enjoy a strong open to the race, minding his laps as best he could before handing over to Sofronas for the close. Handing over a clean car to the team owner, James would do his best to make work of the field in front of him, elevating the No. 2 to the lead in class as the race unfolded, and ultimately holding position for the victory.
Sunday's Race Two would run similarly, with Sofronas taking on starting duties and handing over to Bell, who did a great job managing the car to come home second in class.
Not to be outdone, Jason Bell would also compete solo in the Pirelli GT4 America Sprint class. Driving the No. 2 Porsche 718 Cayman GT4 Clubsport, Bell's continued progress over the year once again showed, battling for the top-five throughout both races, ultimately settling for a pair of sixth place finishes.
"It was a great weekend at Sonoma Raceway," stated Jason Bell. "To come away with a SprintX win alongside my co-driver James Sofronas was one of the goals this weekend, and we accomplished that in race one. We were also able to stand on the podium in race two, providing GMG with a double podium performance. What a weekend!"
The team will now enjoy a few weeks of space before their next round, heading further north to Portland International Raceway in Portland, Oregon, for GT4 competition from July 12-14.