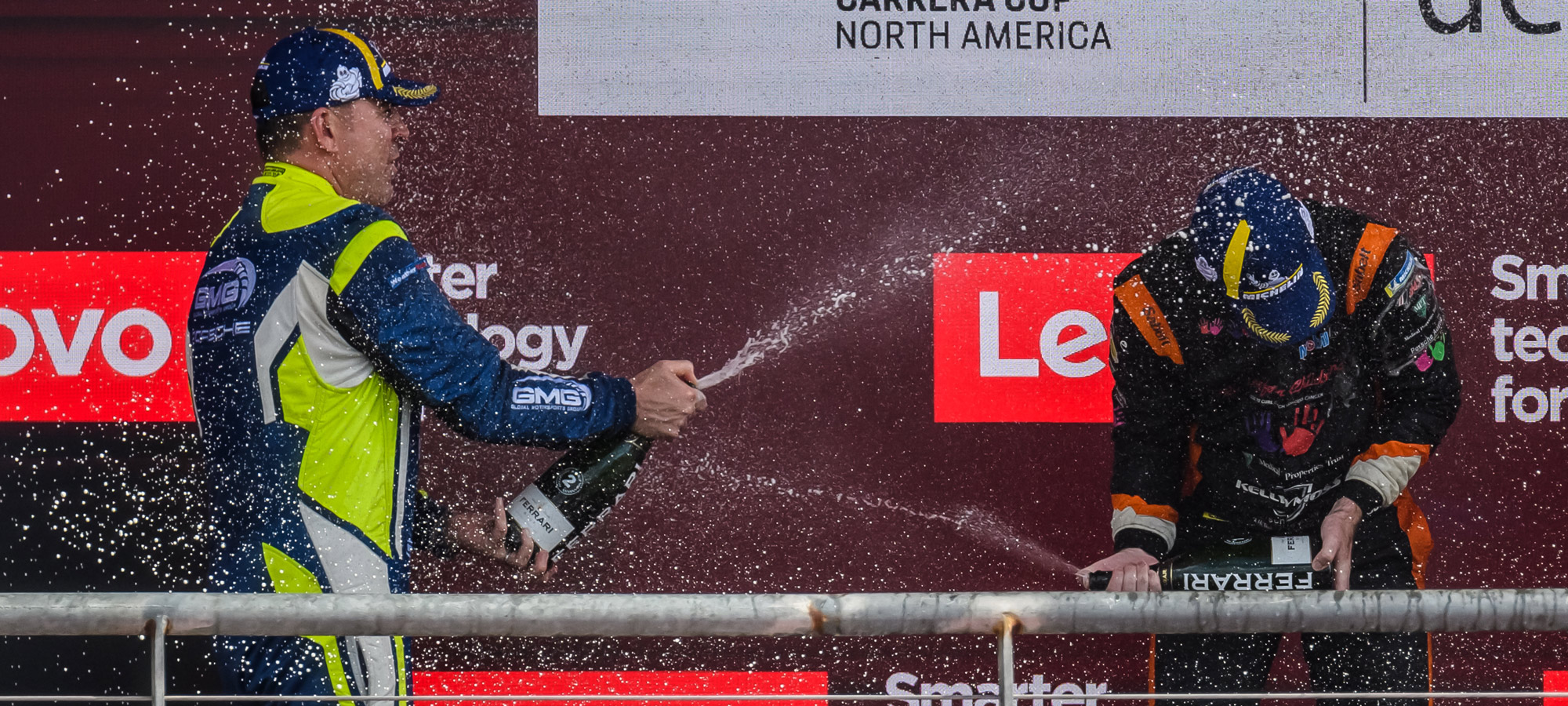 James Sofronas Makes Triumphant Return to Competition with a Pro-Am Class Sweep in His IMSA Porsche Deluxe Carrera Cup Debut at Circuit of The Americas Finale
GMG Racing's James Sofronas made a triumphant return to professional competition this weekend with a clean sweep in the Pro-Am class in the No. 14 GMG Racing Porsche 911 GT3 Cup in his IMSA Porsche Deluxe Carrera Cup series debut at the season-ending doubleheader at Circuit of The Americas (COTA). The weekend's Saturday and Sunday 40-minute sprints were the main support events for COTA's Formula 1 United States Grand Prix and provided an opportunity for Sofronas to get back behind the wheel after recovering from a back injury sustained this past summer in a race testing incident.
"I was really looking forward to this race, getting back behind the wheel and proving to myself that I could still compete at this level despite a pretty severe back injury," said Sofronas, the Founder and Principal of GMG Racing. "Without being able to train or get in condition for competition because I was resting the entire second half of the summer into the fall, I just had to count on my experience. The GMG Racing crew gave me a great Porsche and I just had to execute."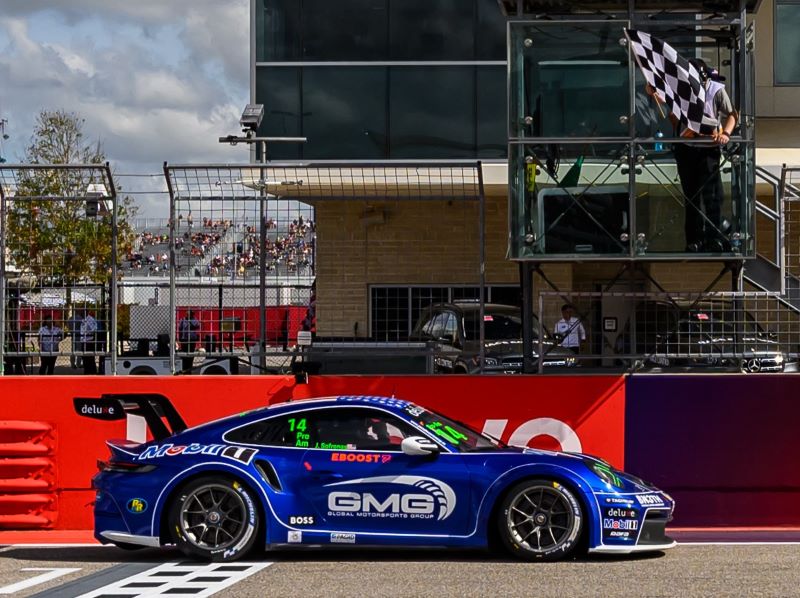 Sofronas improved several positions in both weekend races, climbing from fourth on the starting grid on Saturday and second on Sunday for the pair of victories. The run to the top of the order in both races was even more impressive considering both sprints were slowed by time-draining caution periods. Sofronas wasted no time getting to the front in either race.
"When I had opportunities to make passes, I took them," Sofronas said. "I knew Sunday was going to be a rough and tumble race as the last one of the season, so I had to pull some of my 30 years of race craft out of the my pocket and prepare accordingly. When I saw high risk and low reward, I tempered my approach, but in the end I made two strong passes to get to the lead. The car was super strong under braking, and set-up change overnight gave me a lot of front grip to charge the corner entries."
The No. 14 was one of a Carrera Cup season-high three 992-type Porsche 911 GT3 Cup entries the GMG Racing crew pristinely prepared for the team's last professional race weekend of the year.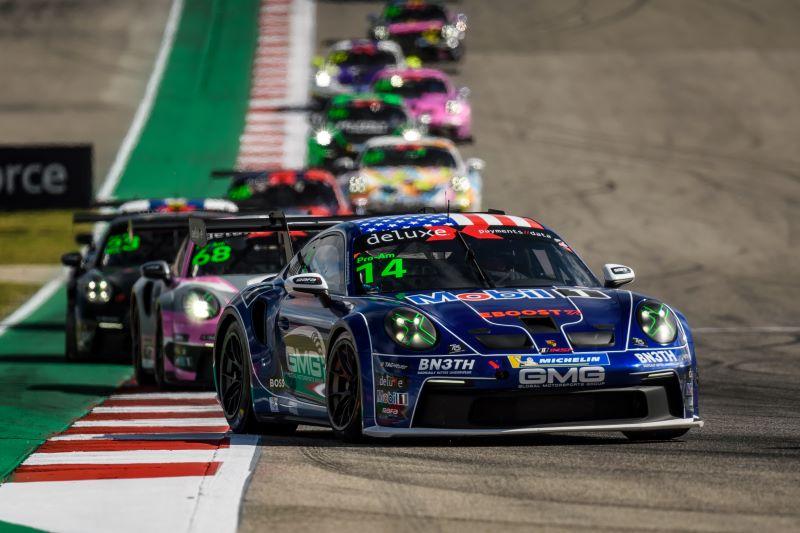 "The crew has just been amazing," Sofronas said. "We are still mourning the loss of one of our main technicians, Bryce Cords, in a fatal car crash a month ago, and earlier this season a key member of the team, Michael Shanes, was sidelined as he fights cancer. We have faced a couple issues that have really taken a close-knit team back a bit, but these guys always rally, the GMG guys work hard and are definitely committed to winning and to each other. I was proud of them, even before this weekend, and when I came back from Saturday's race they were applauding. I was like 'no man, this is for you guys, you definitely deserve to see some strong results after all of the effort put in and hardships endured this year.' They are the ones that really made this weekend happen."
The winning weekend by Sofronas was backed up by multiple-series GMG Racing driver Kyle Washington who concluded his competitive season primarily in single-make Porsche racing series with a pair of Pro-Am top-five finishes.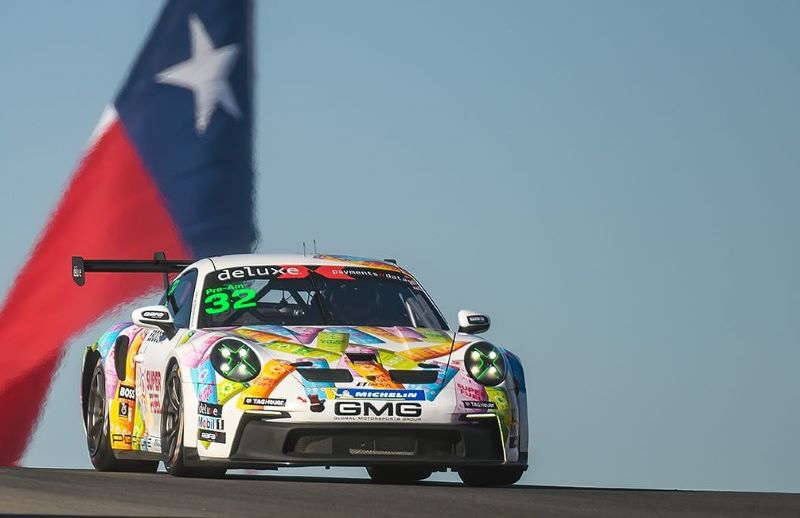 Washington improved two positions in both races for the fifth-place showings in the No. 32 GMG Racing Porsche 911 GT3 Cup.
Sunday's 16th place overall finish was just five spots behind Sofronas, who was the top finishing overall Pro-Am entry, trailing only the top-10 Pro-class finishers in 11th.
"Kyle got into some heavy traffic and had to deal with some high temperatures in the middle of Saturday's race," Sofronas said. "We had to manage that, but top-five finishes for Kyle are strong in this deep Pro-Am field that really drew some entries as the main support race for Formula 1. I am super proud of him, he liked his car Saturday, and we zeroed in on a little bit more of what helped him to another top-five finish on Sunday."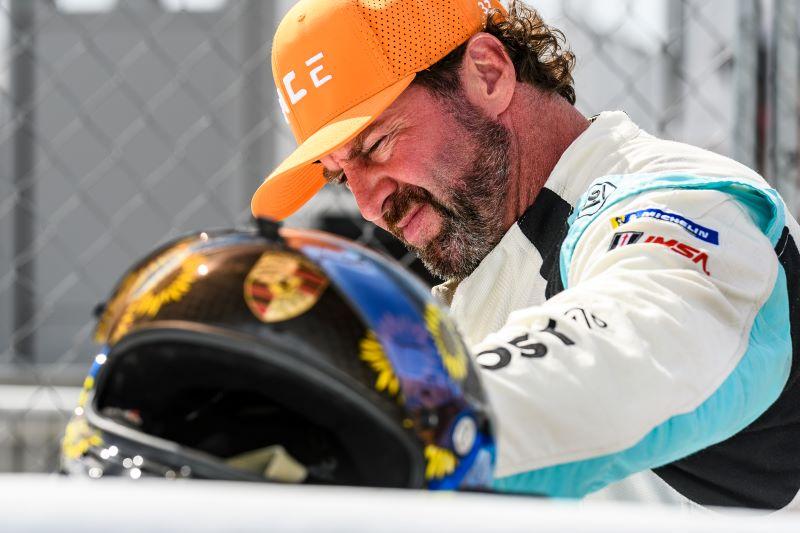 The third GMG Racing entry at COTA saw driver Blake McDonald join Sofronas and Washington in closing the year on a high note in just his second weekend of Carrera Cup competition in the No. 11 GMG Racing Porsche 911 GT3 Cup. After a solid series debut with GMG Racing last month at Rennsport Reunion, McDonald posted his best result of both weekends in Sunday's final race of the year at COTA with a 12th place finish in the top-tier Pro division.
Blake was pleased with his car," Sofronas said. "We kept making changes in a positive direction and, like Kyle, he wanted just a little bit more of what worked. You have to alter driving style when you go from Yokohamas in Porsche Sprint Challenge to the Michelins in Carrera Cup, and Blake is getting familiar with it. He has shown a lot of pace throughout the year as we have supported him and watched him with another team in Sprint Challenge. It's only a matter of time before Blake will be pushing toward the front."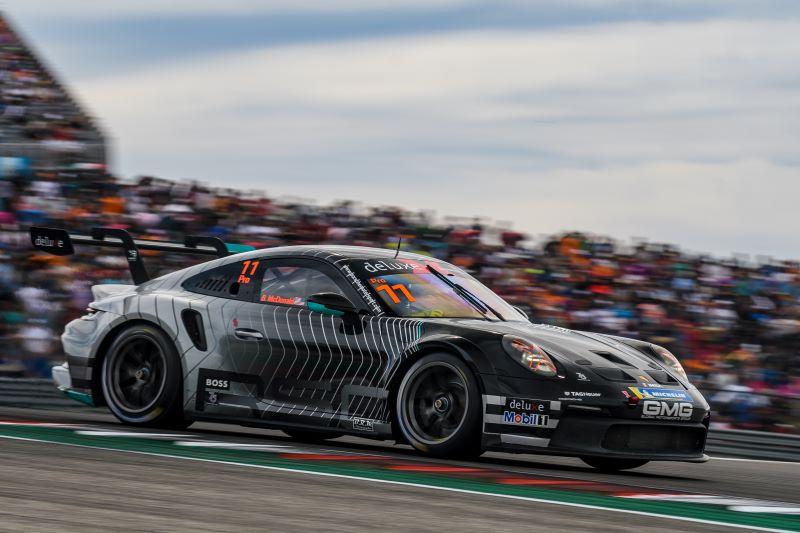 A perennial race winner and multiple champion in sports car racing with GMG for decades, many in the paddock were surprised this weekend marked the first Carrera Cup race starts for Sofronas.
"This is rewarding on multiple levels," Sofronas said. "Being able to get the weekend win sweep in my first ever Carrera Cup race is very satisfying and a little different. I am usually behind the scenes, trying to elevate our team and push them. This weekend I had dual roles, downloading with the crew and drivers and making sure they got what they needed. Then I spent a few minutes making sure my car was set up and the guys did a great job.
"This weekend was as much about next year as it was ending 2023 strong. We wanted to show we could put a car on the grid, make it competitive with a 55-year-old driver and showcase what we are looking to do, which is to build our customer racing program for 2024. The on-track performance is there and we have elevated our paddock presence, we have invested in new and additional equipment and we have one of the best paddock presentations in the field. We look forward to taking the entire program into 2024."
In addition to ongoing planning for 2024, the remainder of this year will see GMG Racing undertake a full schedule of track day and race events on their home circuit at the Thermal Club, where GMG Racing will open its expanded headquarters operation next year. The schedule and event dates for GMG Racing's winter schedule at Thermal will be released in the near future.