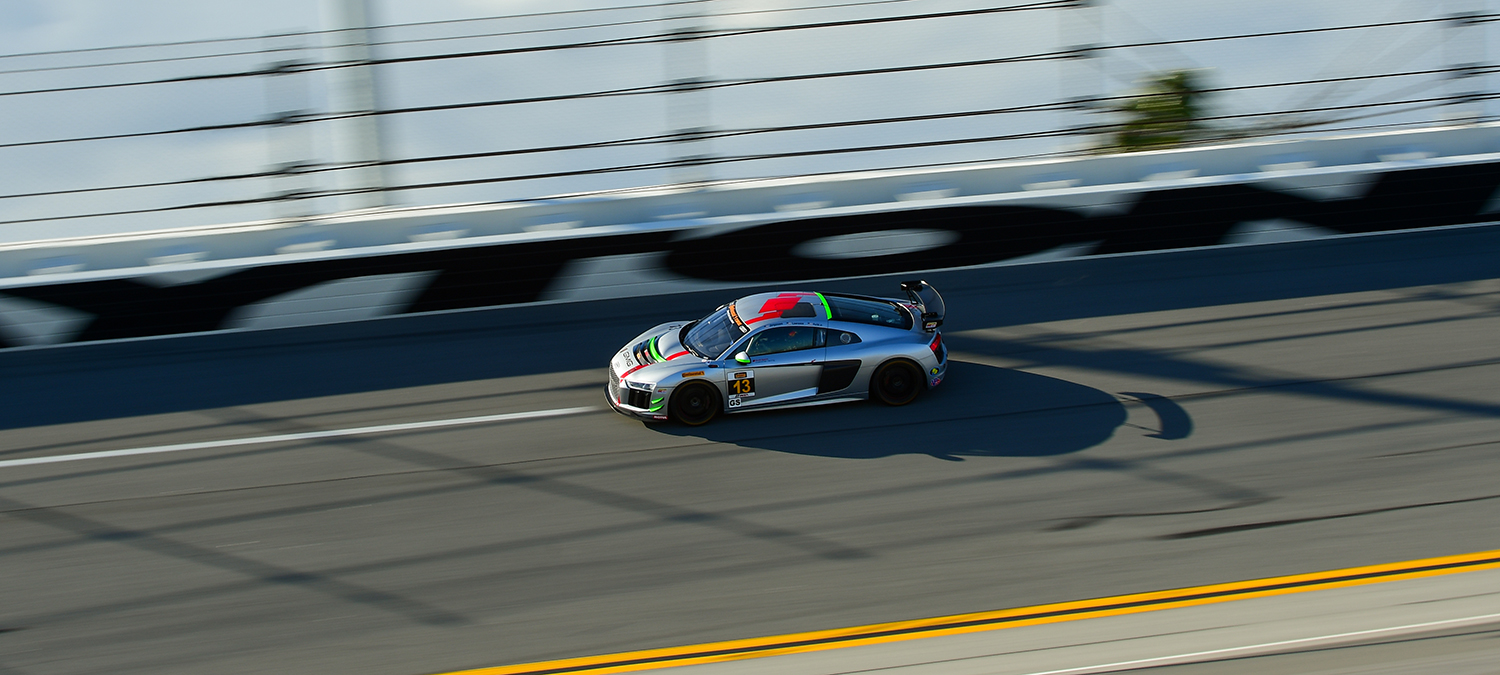 GMG's 2018 Racing Season Begins with History-Making Three-Car Entry at Daytona
With three cars ready to unload at the famed Daytona International Speedway, Global Motorsports Group (GMG) is ready for the first official race of 2018 to take place during Friday's BMW Endurance Challenge, the opening round of the Continental Tire Sports Car Challenge. As part of a revitalized series that features all GT4 specification racing cars, GMG will be part of the North American debut of the Audi R8 LMS GT4, the latest in Audi and GMG's commitment to driver development. As previously announced, the No. 14 Audi R8 LMS GT4 of George Kurtz, James Sofronas and Andrew Davis will be joined by the No. 13 of Daren Jorgensen, Rick Parfitt, Jr. and Camerona Lawrence, however the team is now proud to announce a new all-female entry as well, featuring Ashley Freiberg and Gosia Rdest.
"On so many levels this weekend is a symbol of our team's ability to deliver and make history," stated GMG team owner and driver James Sofronas. "Everyone on the team has been hard at work learning and developing the new Audi, including several guys spending their holidays side-by-side with Audi Sport customer racing personnel as they took delivery of the new cars. We've learned a lot in a short amount of time, and now it's time to go racing. George, Andrew and myself are primed and ready for Friday's round in the No. 14, and similarly Daren, Rick and Cameron should show well in the No. 13. It's a late entry, but we couldn't be happier to welcome Ashley and Goshia to the team. Ashley has become a staple of the IMSA scene and we're excited to see her talent, and Goshia has shown a lot of promise in other categories. This Audi has already proven to be one heck of a development car, taking drivers who are relatively new to the sport all the way to the high banks of Daytona, but in a machine that is fast, easy to handle, and relatively affordable. Everyone at Audi Sport has really hit this one out of the park. Combined with our ability to test, test, and re-test the car at The Thermal Club, it's great to be in on the ground floor of this program."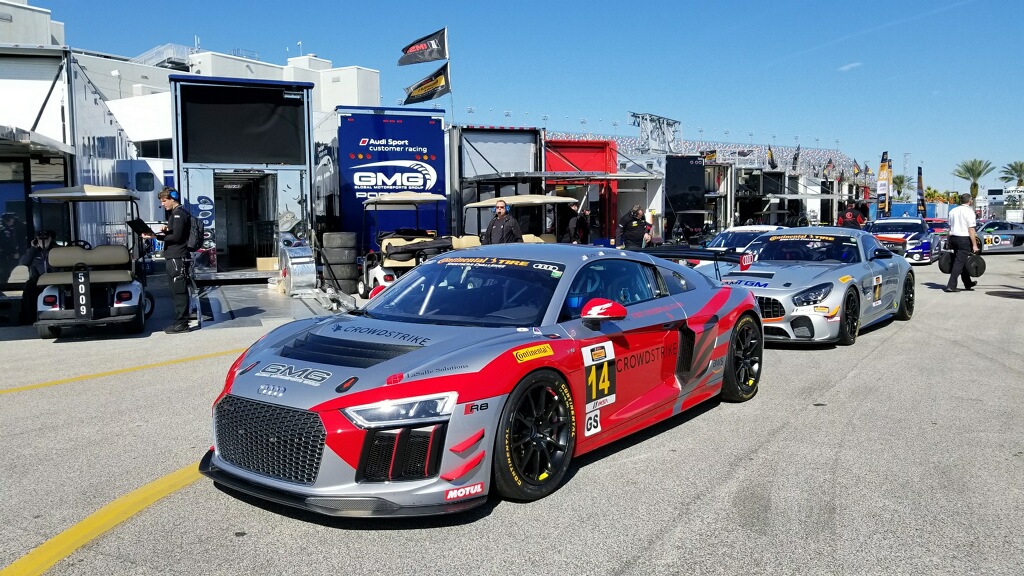 With one of the strongest lineups in the field, the combination of Sofronas with George Kurtz and Andrew Davis in the No. 14 CrowdStrike Audi R8 LMS should prove formidable. Threatening in the top-five throughout much of the opening practice sessions during the recent "Roar Before the 24" preseason test, the trio are poised well to impress. Kurtz joins for his first IMSA race after an impressive 2017 in which he took home more victories than anyone en route to his class championship, while Andrew Davis arrives as a defending series champion from 2015. Not to be outdone, Sofronas will arrive with strong momentum after his own record-breaking 2017, earning two championships in the Pirelli World Challenge on the back of more class victories than anyone else combined.
"This is the weekend we've all been focused on," stated George Kurtz. "We've all been excited about the Audi since we agreed to move toward this program, and we're all curious to see how it all develops. The GT4 platform has clearly become the playing field that everyone wants to be part of, hopefully we've chosen the right horse."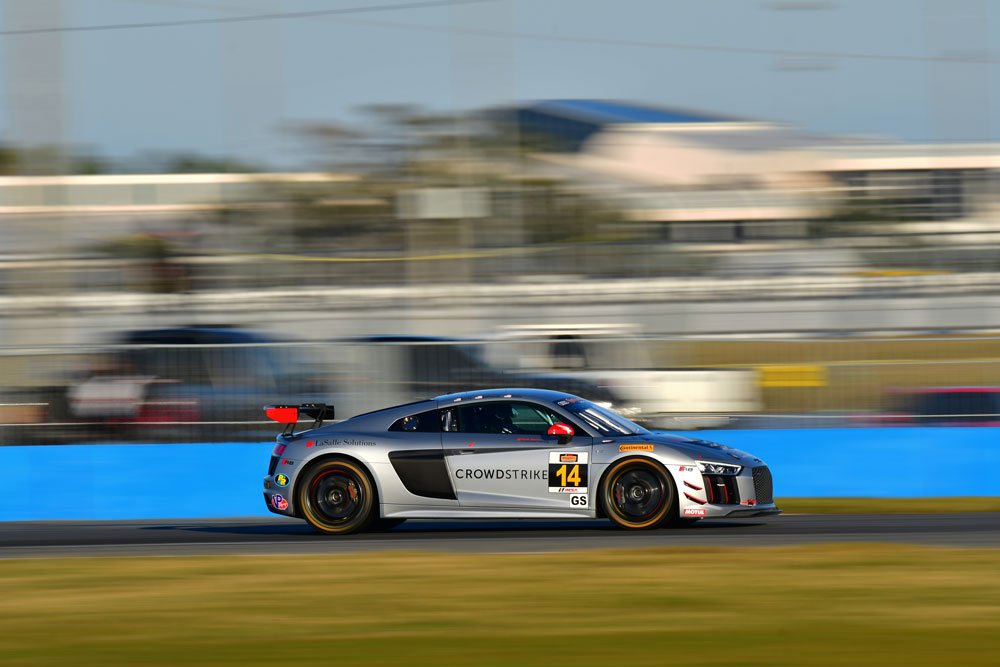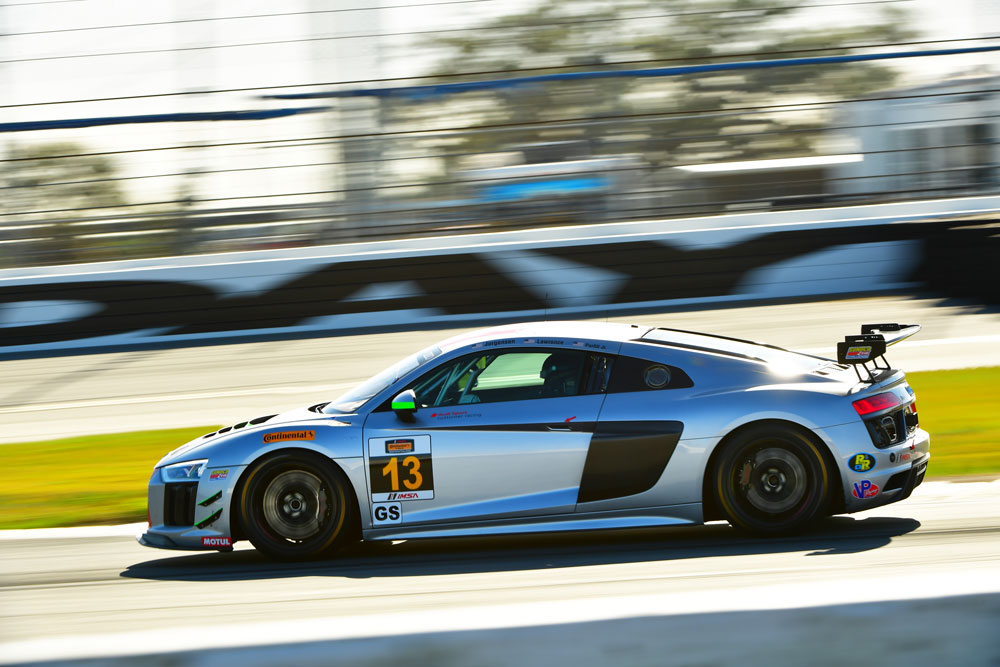 In the No. 13 Audi R8 LMS GT4, series-newcomer Daren Jorgensen will be joined by veterans Rick Parfitt, Jr. and Cameron Lawrence for their foray in to the series. A strong mix of experience and enthusiasm, Jorgensen joins the team after multiple NASA championships, which should match well with his notable teammates, Parfitt as a British GT champion, and Lawrence as the 2015 IMSA North American Endurance Cup champion. Also looking to kick off their season on a high, the trio look to impress.
"GMG and Audi Sport Customer Racing have prepared a reliable and competitive Audi R8 LMS GT4 car" stated Jorgensen. "We're pleased with the progress made at the Roar Before the 24. We anticipate a strong result at Daytona and look forward to a fun and competitive year ahead in our Audi R8."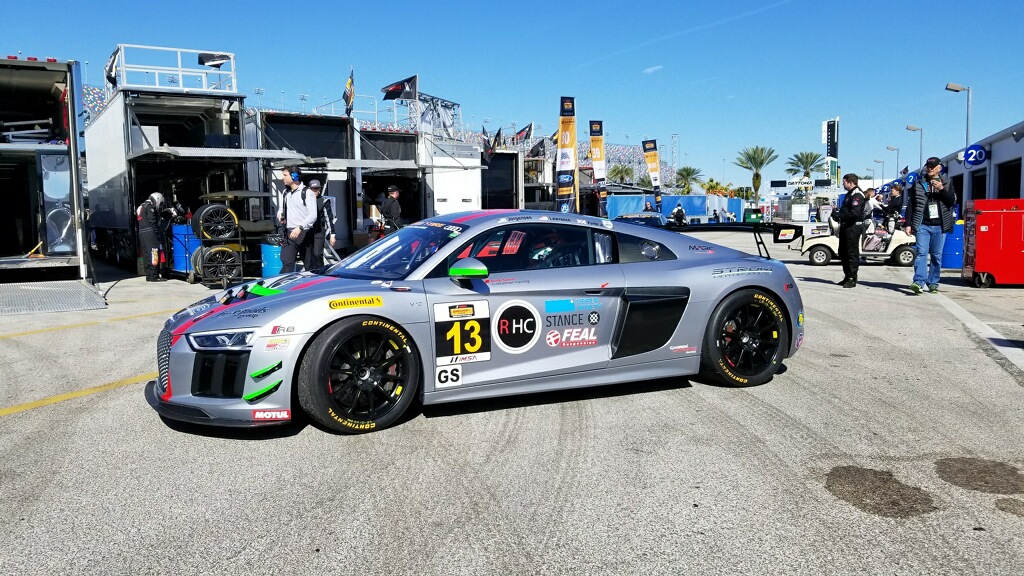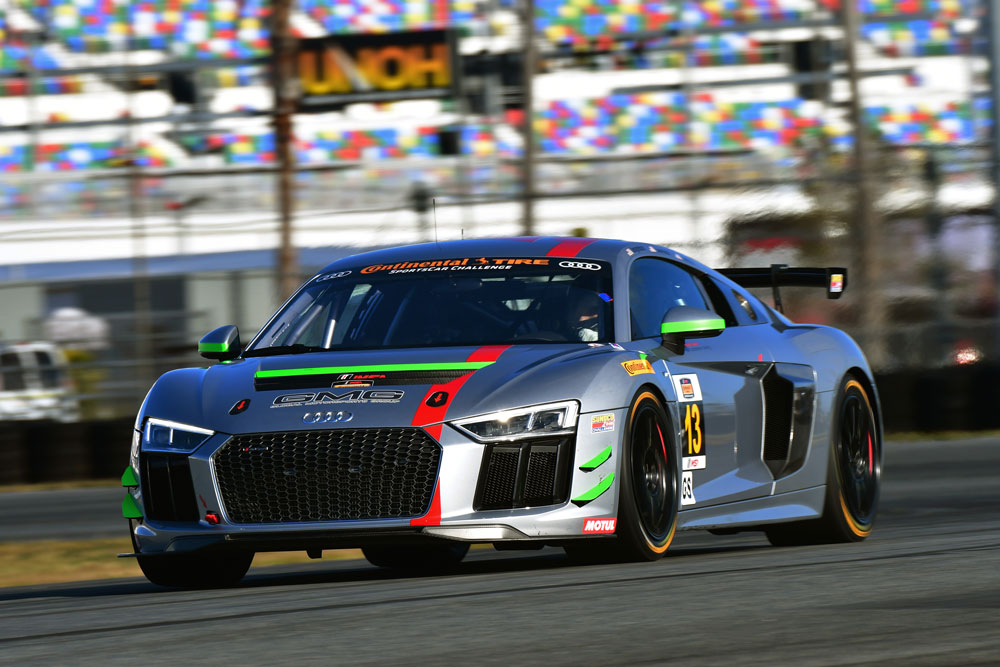 For Parfitt, Jr., a similar sentiment is shared.
"Racing at Daytona International Speedway has always been a goal of mine," stated Parfitt. "The rich history and heritage at Daytona and the Rolex 24 Hours is recognized throughout the world. With the support of Sunoco 240 Challenge, I will have the opportunity to compete at Daytona for the first time with a respected team and successful co-drivers."
Fresh off his latest race at the 24 Hours of Dubai, Cameron Lawrence looks to begin his U.S. campaign.
"Daytona is an incredible way to kick off an exciting year for RHC. Coming off the Dubai 24 Hours, I look forward to returning to my home-track for my fourth BMW Endurance Challenge, this time with a brand new Audi R8 LMS. After testing the Audi R8 LMS at the Roar Before the 24, I was impressed with Audi's new platform."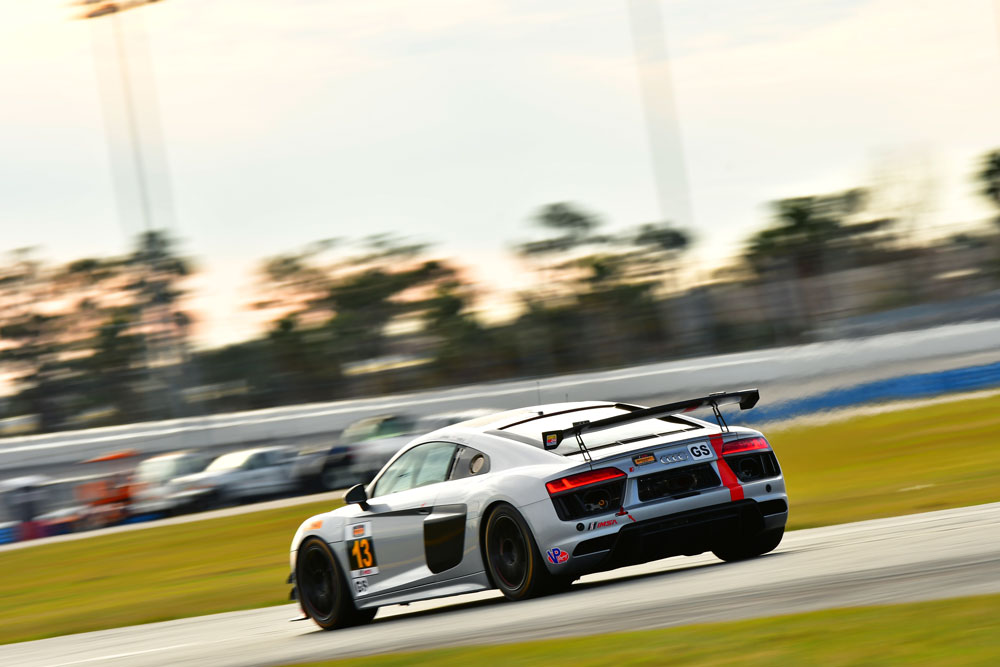 Finally, in a newly-entered third Audi, Ashley Freiberg and Gosia Rdest will make history as the first all-female lineup in the history of the Continental Tire SportsCar Challenge GS category since the merge between the American Le Mans Series and GRAND-AM. Ashley Freiberg comes to the GT4 with a wealth of experience at Daytona. Freiberg was the first woman to win an overall race at Daytona and in the Continental Tire SportsCar Challenge. Her teammate Gosia Rdest competed in the Audi Sport TT Cup from 2015-2017 and has both TCR and GT4 racing experience. Rdest placed first in the GT4 class at the Dubai 24-hour two weeks ago and will continue the season with Phoenix Racing in the 2018 SRO GT4 European Series.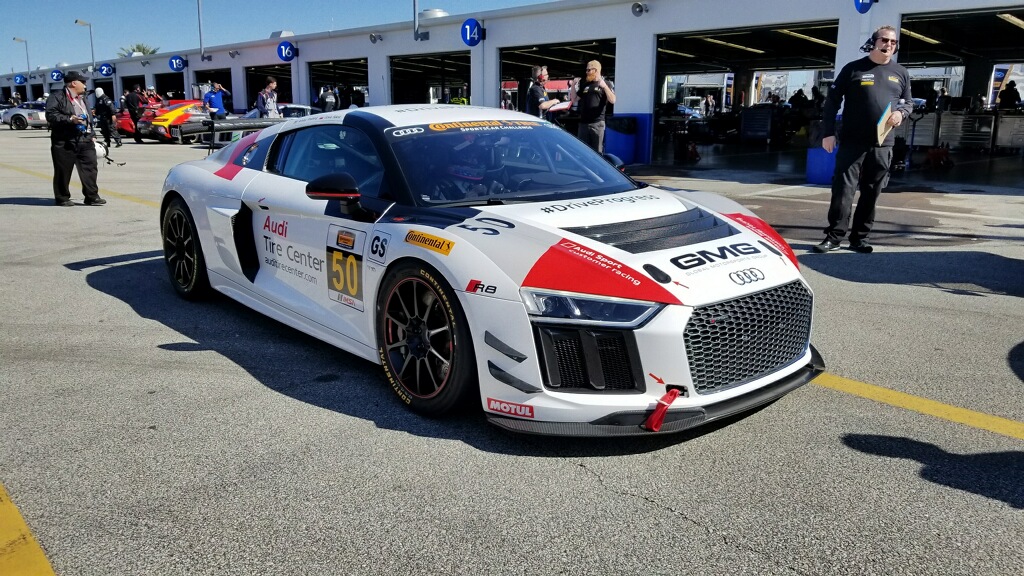 "Women are few and far between in motorsports, so the opportunity to join an all-women team with Audi is really exciting," stated Freiberg. "My gender doesn't make a difference when I'm behind the wheel. I still have to do a good job, and drive the car hard; the data and lap times don't lie," said Ashley Freiberg. "I think we'll be a strong team, not because we're female, but because we're drivers that are ready to do the job well."
Looking ahead to Friday's adventures, the team would also like to acknowledge the continued assistance courtesy of The Thermal Club, a private motorsport facility located just a few miles from Palm Springs, California. As a private facility with a number of country-club style amenities, the venue has been perfect for facilitating the development of programs such as this, not to mention gaining previous seat time for the team's driver development.
Practice begins on Wednesday, January 24, with the BMW Endurance Challenge taking place on Friday, January 26 at 1:00 p.m. ET. Live coverage will be available at www.imsa.com.