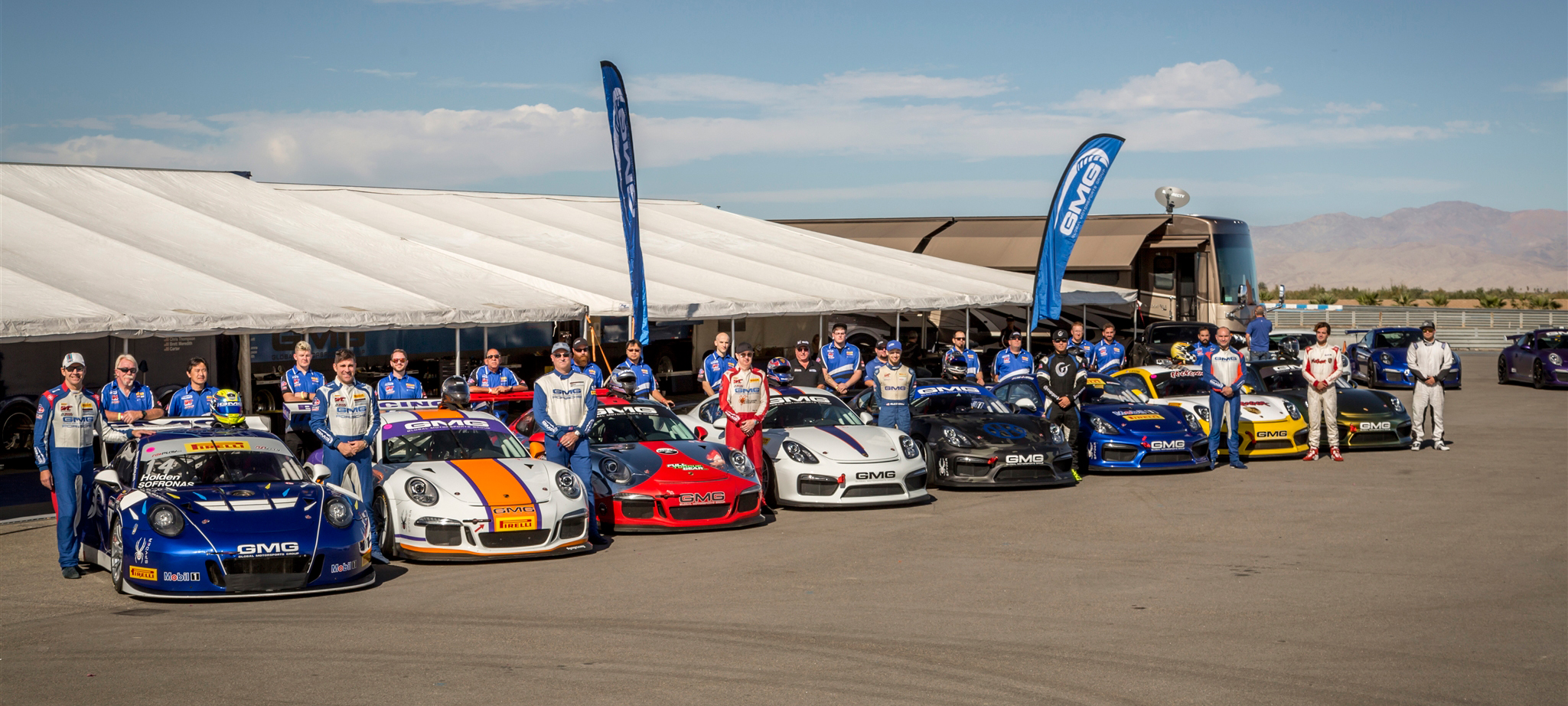 Victory Sweep at Thermal Highlights 2017 Plans for GMG
Servicing seven Porsches throughout the first round of The Thermal Club's emerging "Triple Crown" racing series last weekend, the depth and quality of Global Motorsport Group (GMG) shined as the team prepares for a full assault on the upcoming 2017 racing season.
Winning both races outright as well as in multiple classes, the team collected nine trophies over the event weekend, servicing a full Porsche fleet that included: four Porsche Cayman GT4 Clubsports, two Porsche 911 GT3 Cup vehicles, as well as the top-tier Porsche 911 GT3R.
Turning the team's attention to the 2017 season, where it has already committed to competing in the Pirelli World Challenge, Pirelli GT3 Cup Trophy USA, as well as additional grassroots series, GMG's commitment to next year stands well ahead of many of its competitors, particularly in the fact that it heads in to next year with a legitimate foundation, not just the promise of one.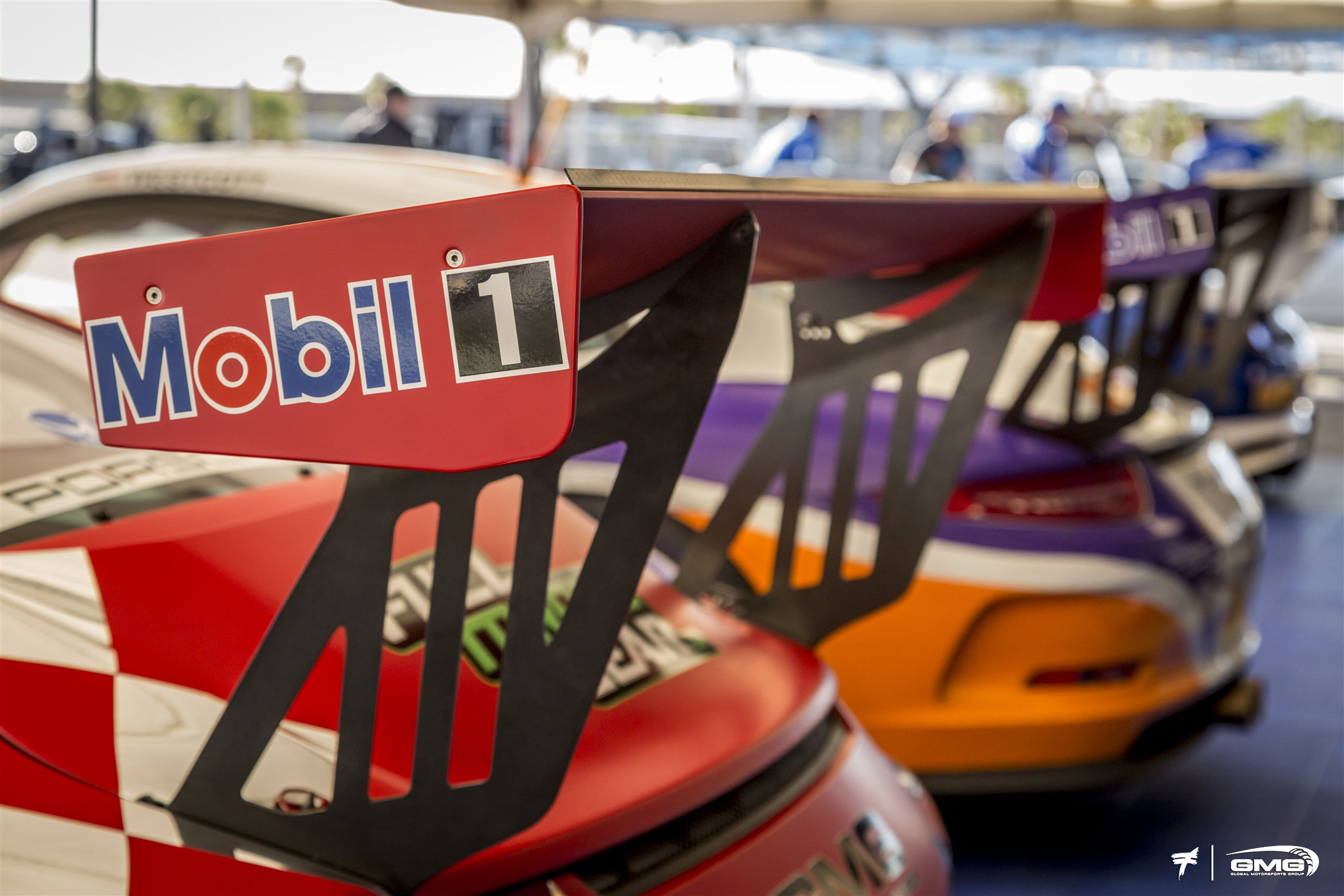 "We're not a team that will make claims to show up based on some vague notion of reality, we're looking toward 2017 because we're fully staffed and prepared for it," stated GMG's James Sofronas. "This weekend we were lucky enough to see seven cars race under our umbrella, in a variety of Porsches and featuring drivers who came with a variety of experience levels. I'm proud of the fact that every one of them had a great experience, and our veteran team of technicians, engineers and driving coaches were able to provide an unparalleled service to all of them."
As a team built on providing a variety racing opportunities to suit the experience and interest level of the driver, the team's comprehensive understanding of all-things Porsche, whether it be the entry-level Cayman GT4 Clubsport, the established 911 GT3 Cup, or the aspirational GT3R, makes the team a perfect fit for racing at all levels.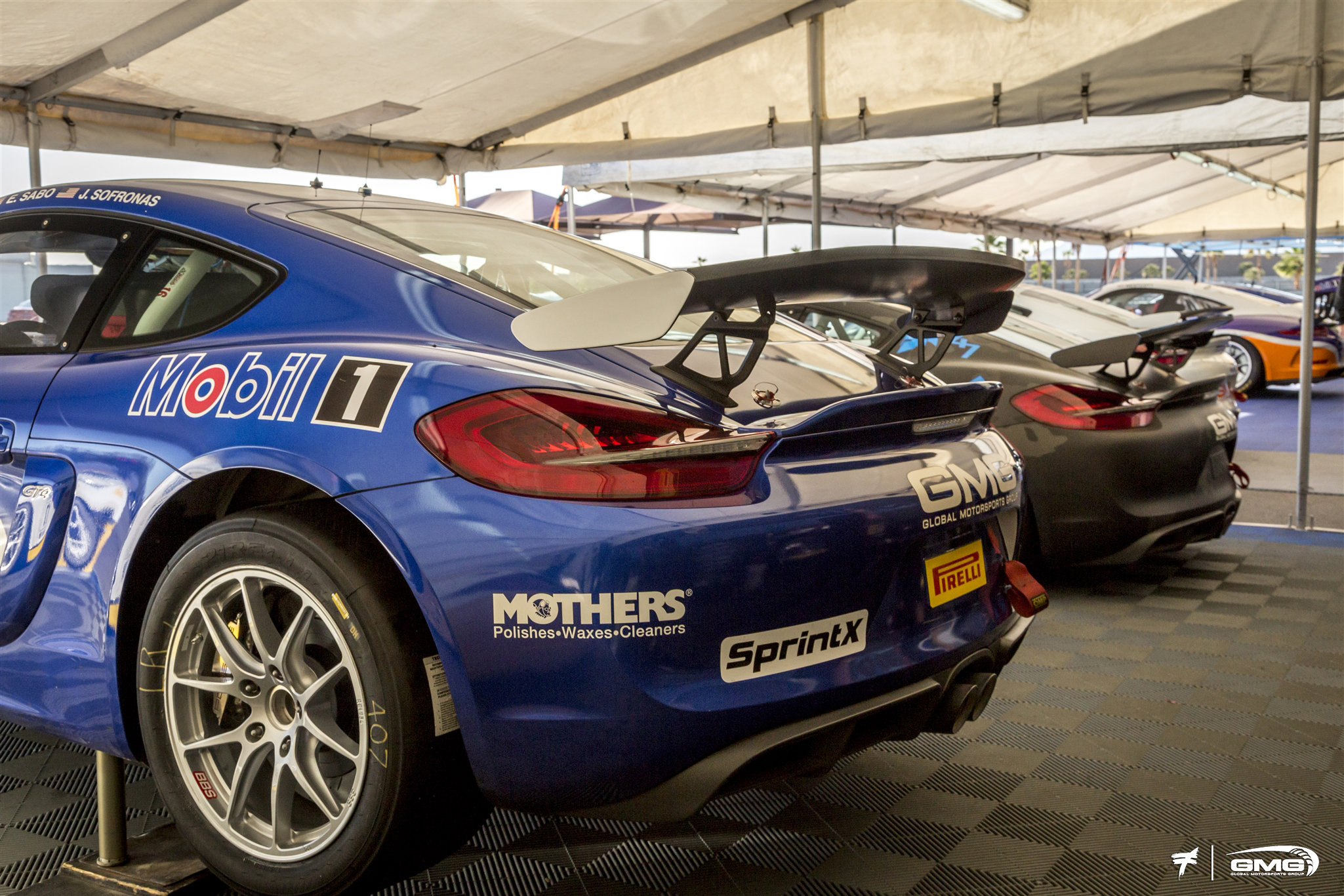 After taking a commanding championship with 12 victories in the Pirelli World Challenge GT Cup category with driver Alec Udell, GMG's commitment to the series remains unchanged, with multiple entries expected in 2017.
Newest to the fold is the team's recent support of the Porsche Cayman GT4 Clubsport, of which the team is already supporting four machines. As a mid-engine vehicle producing around 385hp, the car acts as a perfect entrée to motorsports for the less experienced, all while enjoying the excellence expected with a Porsche vehicle.
Most notably, the car will be eligible to race in a variety of categories in 2017, not only in several Porsche-based club categories, but also the Pirelli World Challenge's GTS category, where drivers can visit some of the most famed tracks in North America, and competing against top teams and drivers.
During this weekend's Thermal Club races, GMG's experience with the GT4 paid tremendous dividends, with victory and podiums seen for all of the team's entrants with the prolific machine.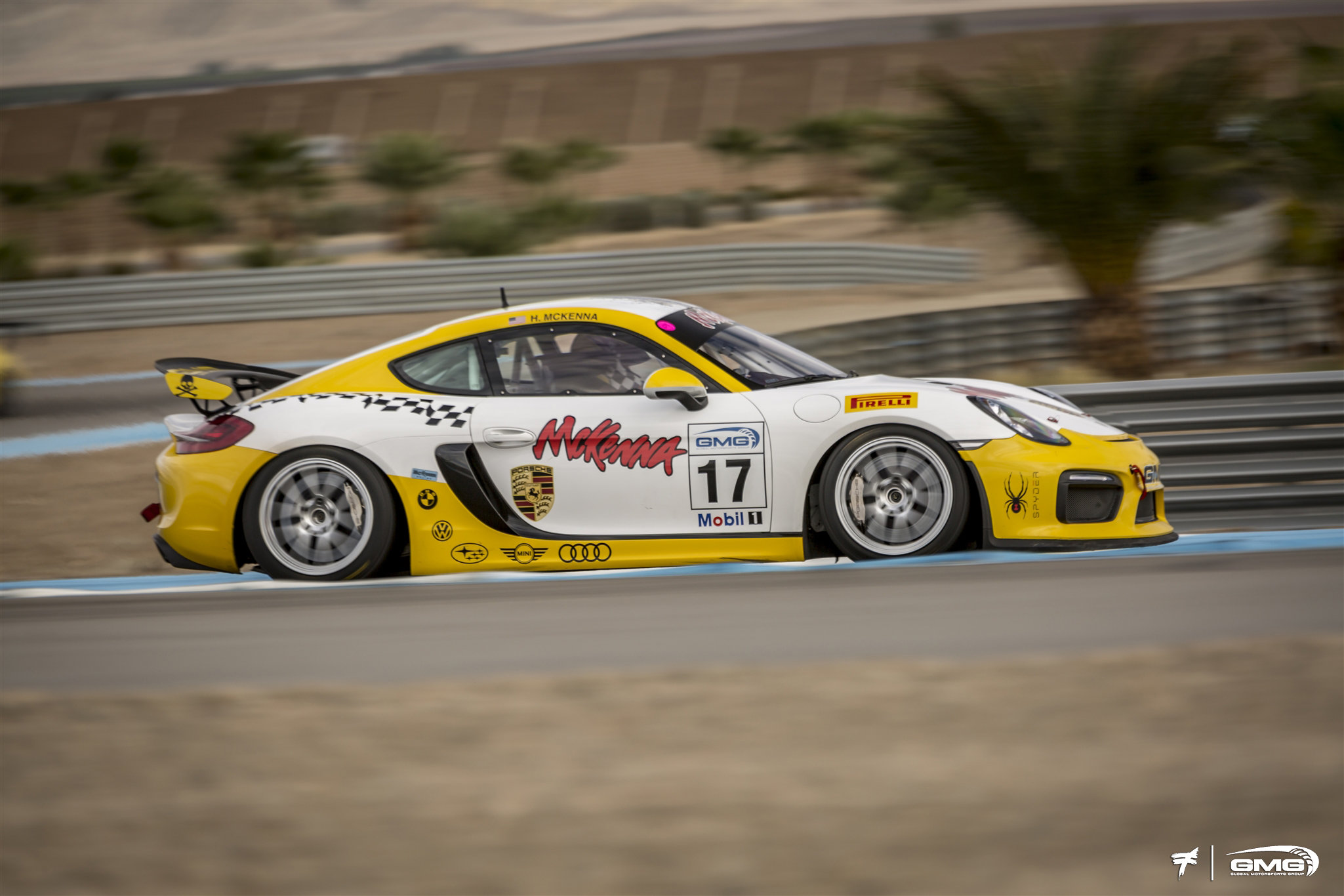 Taking the top-step of the podium would be team newcomer Hutton McKenna, who took to immediate pace in his GT4 Clubsport, taking pole on Saturday and converting that to lead every lap in his class, ultimately taking the victory.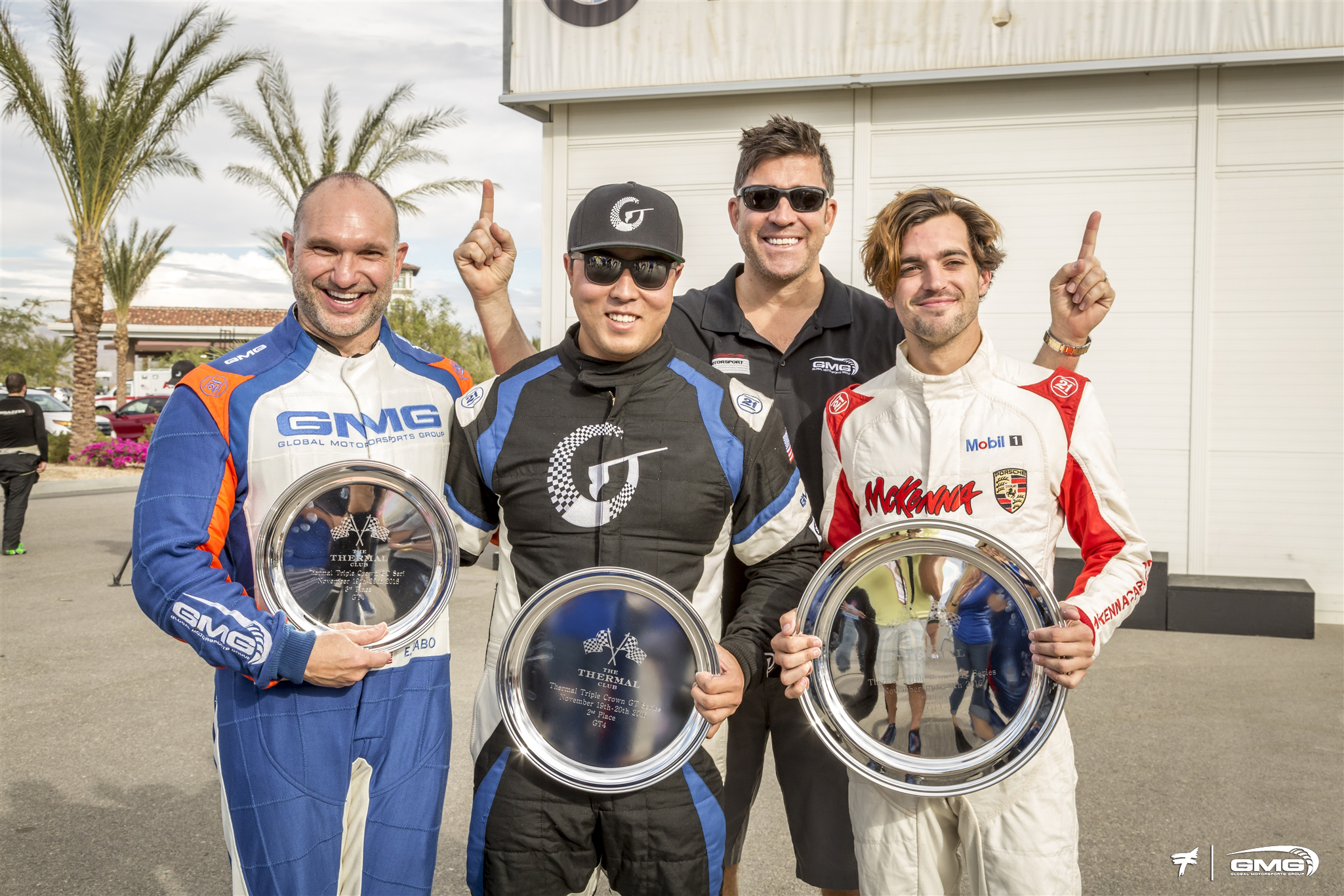 Not to be outdone, taking part in his first-ever car race was development protégé Charlie Yuma. Charlie, who first began working with GMG many years ago on several streetcar projects, has become a signature member of the team, starting with his first track days before eventually making the full commitment to GT4 competition. Driving with a maturity beyond his years, Yuma was impressive all weekend, not putting a scratch on the car despite engaging in some impressive wheel-to-wheel races. This would be accented with a second-place finish, which was a remarkable achievement for someone who'd never taken part in a race prior.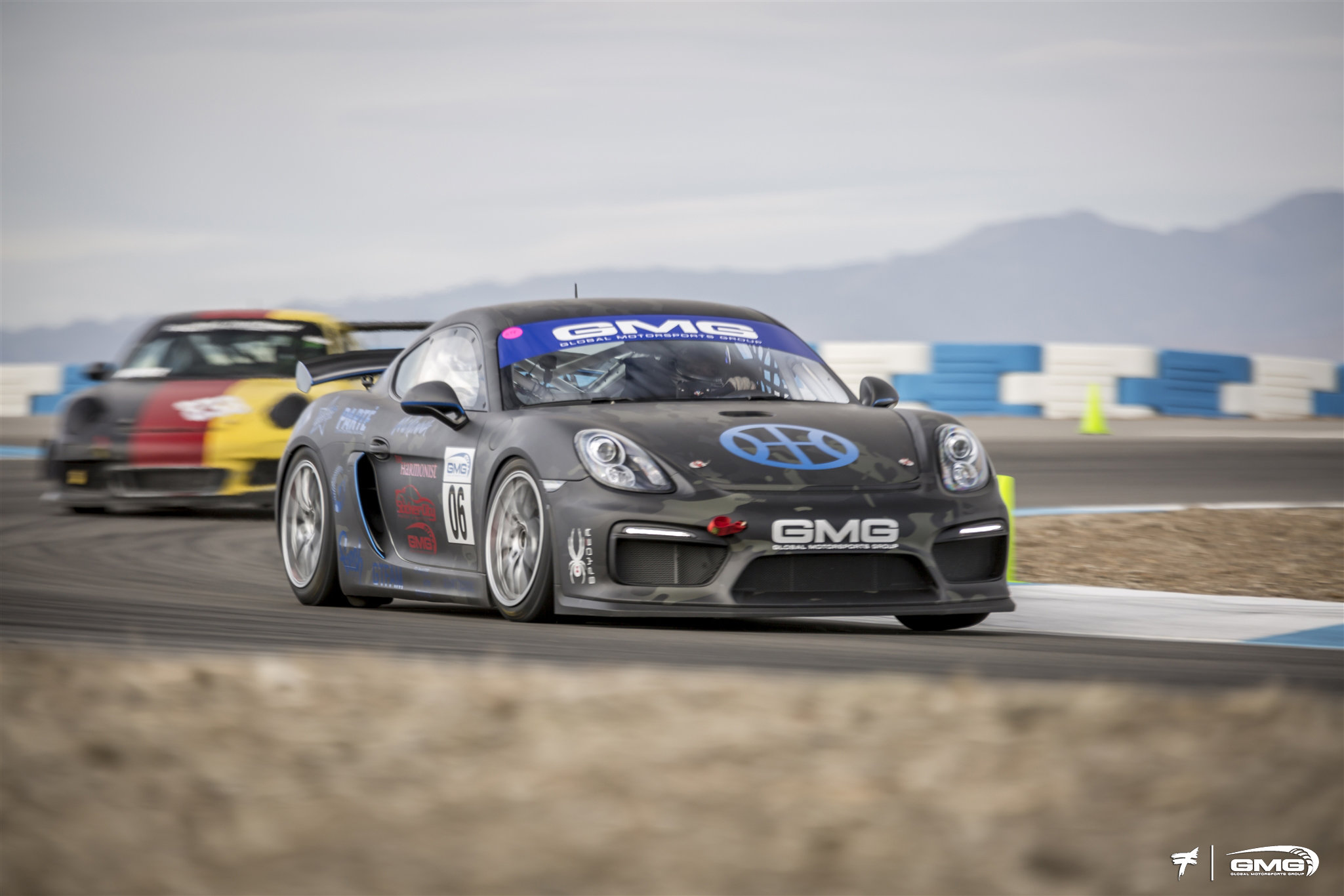 f
Finally, also taking part in the weekend was team newcomer Elias Sabo, the team's latest entry in to the driver development program. Sabo, who went from casual interest in track-day events to taking part in full-fledged racing, showed tremendous patience throughout the weekend, making zero mistakes and walking away with dual trophies as he took home podium finishes on both days of racing.
Beyond having a dedicated team of technicians on all of their cars, the three newcomers were also welcomed with professional coaching and data support by none other than Alec Udell, who happily went through every inch of data and visual support to help the trio achieve a podium sweep on Saturday.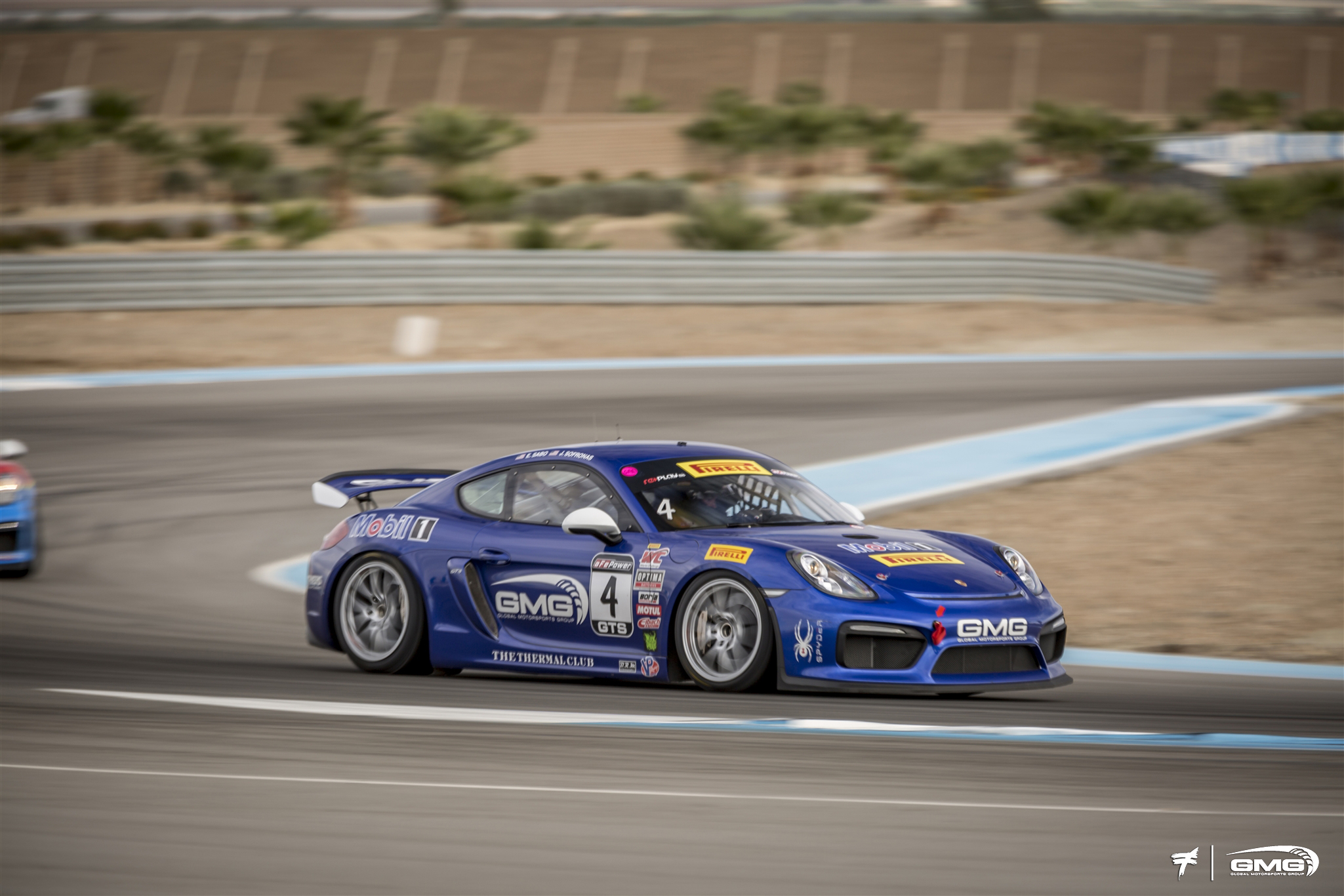 Meanwhile, GMG's support of the ever-present Porsche 911 GT3 Cup remained as strong as ever, with the team supporting drivers Kevin Westcott and Alex Welch. Campaigning the same type of machine that the team won 12 races with during this season's Pirelli World Challenge campaign, the team's depth of experience continued with a victory and podium for both drivers. Welch, a team veteran who has driven some of the biggest events in the world with GMG, including The Rolex 24 at Daytona as well as 12 Hours of Sebring, had a rough start during Saturday's Race One when he was tagged from behind during the start and ended up spinning to a halt in the first turn. Not one to be complacent, the Colorado resident wasted no time getting back up to speed, picking up positions with every lap and eventually finding himself back to the lead in his class before the race would end, taking an impressive victory to add to his tally.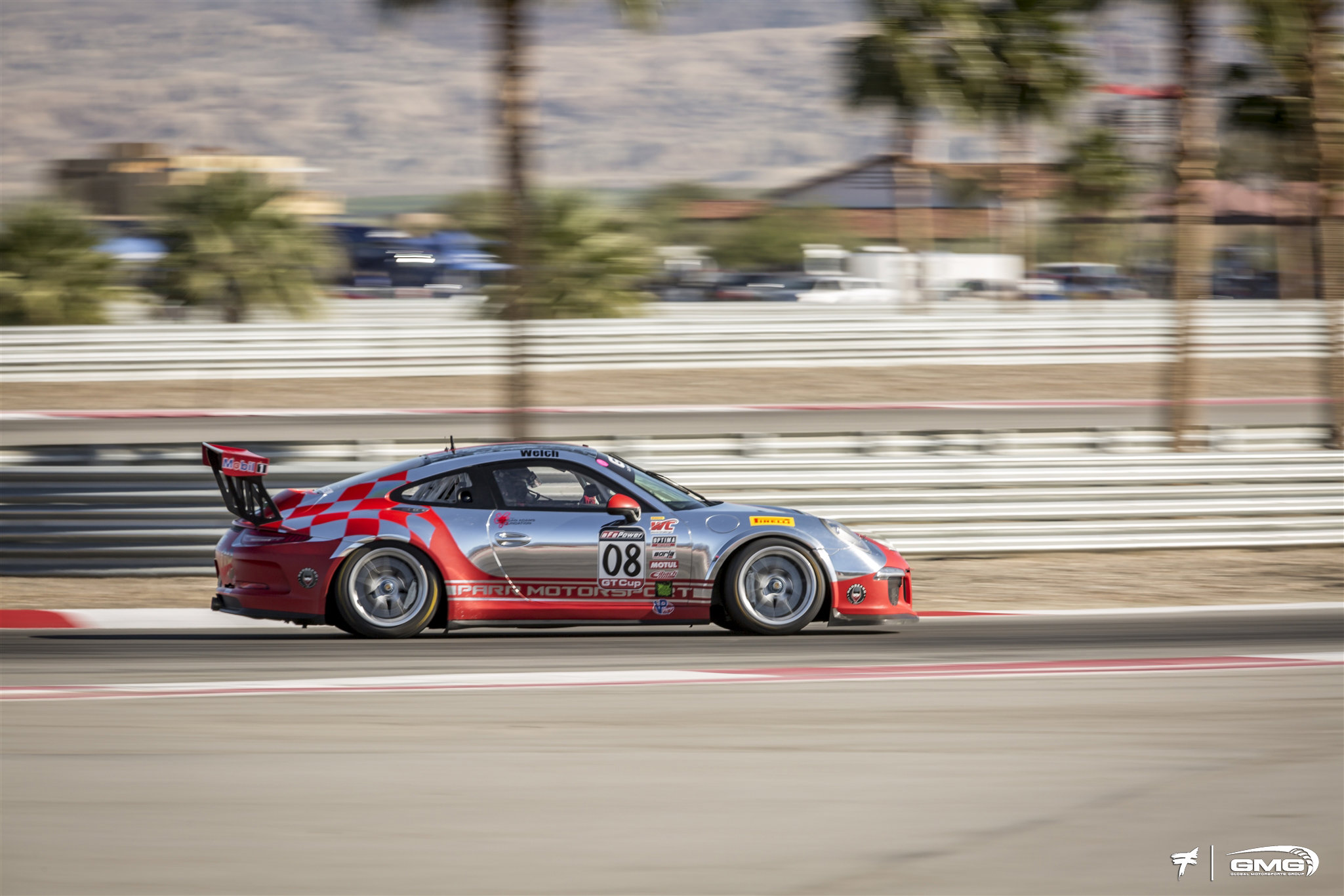 Kevin Westcott, meanwhile, continued an impressive development season, showing vast improvement from his first race 10 months ago to drive clean races all weekend, eventually taking home third place honors on Saturday.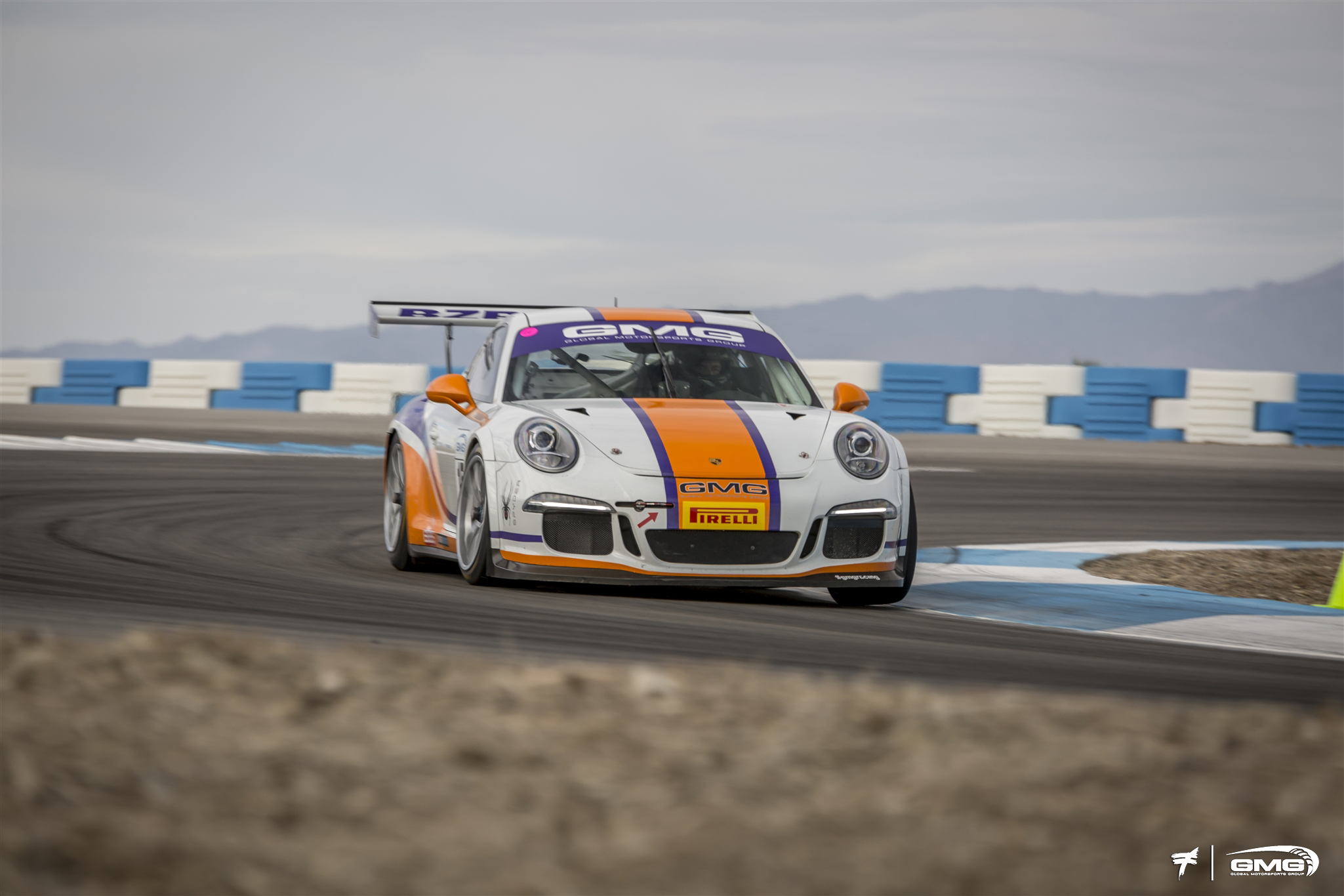 Sharing duties in the top fledge Porsche 911 GT3R, Brent Holden and James Sofronas would race on Saturday and Sunday respectively, taking easy victories overall thanks in part to a year's worth of experience that both drivers and crew have shared after competing with the machine in the Pirelli World Challenge GT and GTA categories.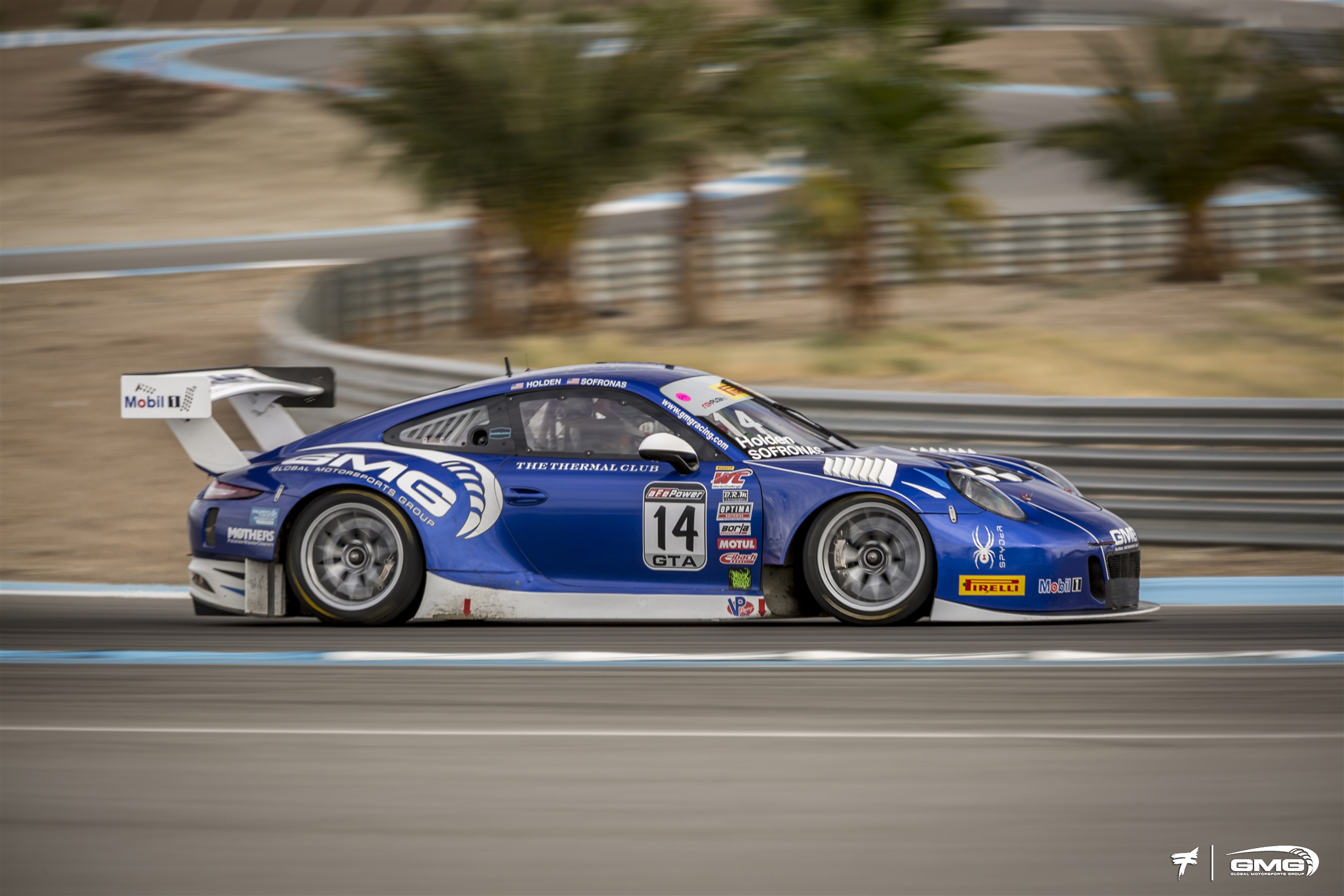 Looking toward 2017, the team has not only demonstrated an amazing ability to provide unparalleled service to their clients, but continue to offer an increased line of services to new and prospective racers.
With the team committed to not only Pirelli World Challenge competition, but a number of series and big races around the country, we welcome any and all inquiries toward 2017.