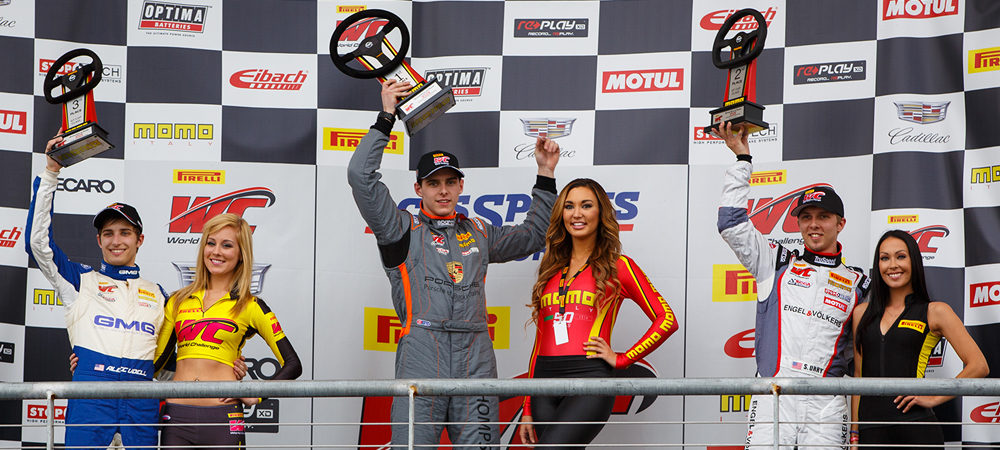 Udell, GMG Open Season Strong with Podium. Snow takes top Audi honors.
In his first-ever race with the famed Porsche 911 GT3 Cup, Global Motorsports Group's (GMG) Alec Udell drove a masterful event to take podium honors at his home track during today's Grand Prix of Texas, the first round of the Pirelli World Challenge.
"A podium finish definitely meets our expectations," stated the 19-year-old. "With a new category you never know what to expect, but the team did an excellent job preparing for it and we arrived feeling very confident. Beyond the podium, championship points are always on our minds, so starting off strong is critical. Hopefully we can carry that momentum into tomorrow and leave the weekend in a great position."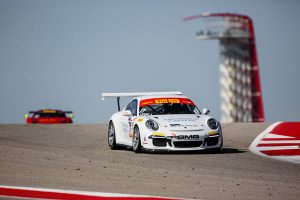 Udell, a Texas native, came in to the series' all-new GT Cup category with a championship focus in mind. As a spec category for the Porsche 911 GT3 Cup 991, Alec was able to qualify the No. 17 machine for the front row during this morning's qualifying session knowing that patience and consistency would be key for the 50-minute race.
Running simultaneously with the GT and GTA categories, Udell's "front row" position would still require competing against a variety of different categories, and Alec's prior experience in the series' GTS category proved fruitful as he managed to avoid incident. Holding second throughout much of his run, a late race combination of traffic and fading tires would ultimately give up one position, settling for third place honors.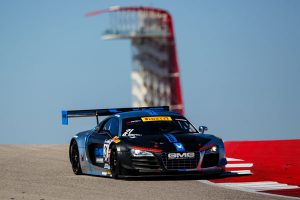 Taking the top spot for GMG in the headlining GT category would be another 19-year-old, Madison Snow. Driving the No. 21 Santa Cruz Bicycles / UIS Audi R8 LMS ultra, the Utah native would take the green light from the fourth row having never raced in Audi machinery. Making a clean start, the multi-time TUDOR podium winner held position throughout the opening laps, advancing to sixth and with an eye toward top-five as the laps continued.
With limited experience in the series, the 2013 IMSA GT3 Cup Champion didn't put a foot wrong as the event continued on, his main challenge proving to be fading handling, eventually falling back to ninth by time the checkered flag fell. Additionally, Madison would end the race as the top finisher in Audi machinery.
"Overall I think we showed great potential, and we've set ourselves up well for tomorrow," stated Snow. "As the race kept on we were really hoping for a top-five, but it just wasn't in the cards. More importantly, we learned a lot today and I think we'll be able to make some good adjustments for tomorrow's race."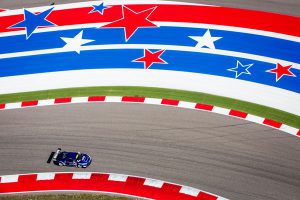 Also competing in the premier GT category was GMG team owner James Sofronas. With over 15 years in the series, the veteran took the green flag in his No. 14 The Thermal Club / Spyder / Mobil 1 Audi R8 LMS ultra with patience, driving without incident to quietly close in on a top-ten, ultimately taking 13th.
"This year all of our attention is on developing our drivers and giving them the tools they need to succeed, so I'm happy to see Alec and Madison run so well," stated Sofronas. "This series has grown so fast and become so competitive that fighting for a top-ten has become incredibly challenging, but that's a great testament to the championship. I'm happy to see Alec run so well, and I know Madison will be even stronger tomorrow. With Alex taking the finish line, all four of our cars crossed the line unscathed and that puts us in great shape for Round Two."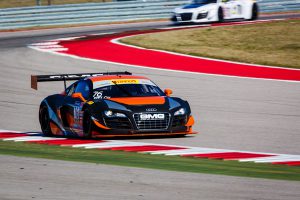 Finally, Alex Welch would finish today's race with an 11th place ranking in the series' GTA category. Competing against a record number of entries, the Colorado resident would exercise caution throughout his run, eventually seeing the finish without a scratch on the car.
With all four cars finishing cleanly, the team will be able to focus all attention on final preparations and setup for tomorrow's second round, taking place at 2:25PM ET and broadcast live on world-challengetv.com.