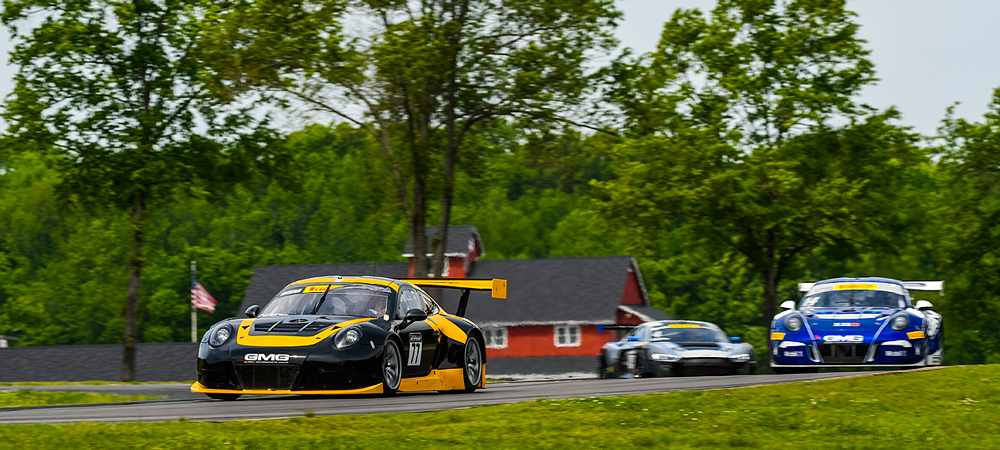 Three Cars, Five Drivers Highlight GMG's Return to Action in Canada
Continuing a busy 2017 that has seen the team run in a number of series across the continent, Global Motorsports Group (GMG) will continue their full-season efforts in the Pirelli World Challenge with a three-car entry during this weekend's rounds at the famed Canadian Tire Motorsport Park. Running in the second weekend of SprintX competition and third weekend for the GTS category, the team will once again return with two Porsche 911 GT3 R machines driven by Preston Calvert, Alec Udell, Laurens Vanthoor and James Sofronas, as well the venerable McLaren 570S GT4 driven by George Kurtz.
"It's great to get back on track in Canada," stated GMG team owner and driver James Sofronas. "After the last round at VIR, we had our work cut out for us as we raced to make sure everyone was ready and well prepared for Canada, and we're excited to be back. The 77 car had quite a bit of damage after VIR, but as always everyone within our team as well as Phoenix Performance completely stepped up to the task. Three weeks later, it's as good as new and I'm sure Preston and Alec will run well. Similarly, after some gremlins at VIR we should be in great shape with our GTS McLaren, and the layout at CTMP should suit the car really well. I can't express my appreciation enough toward George Kurtz and everyone at CrowdStrike for their patience, and we look forward to a great event. For our No. 14, it's great to have Laurens Vanthoor back! Beyond his talent, his attitude and approach really fit well with us, and I look forward to working together one more time."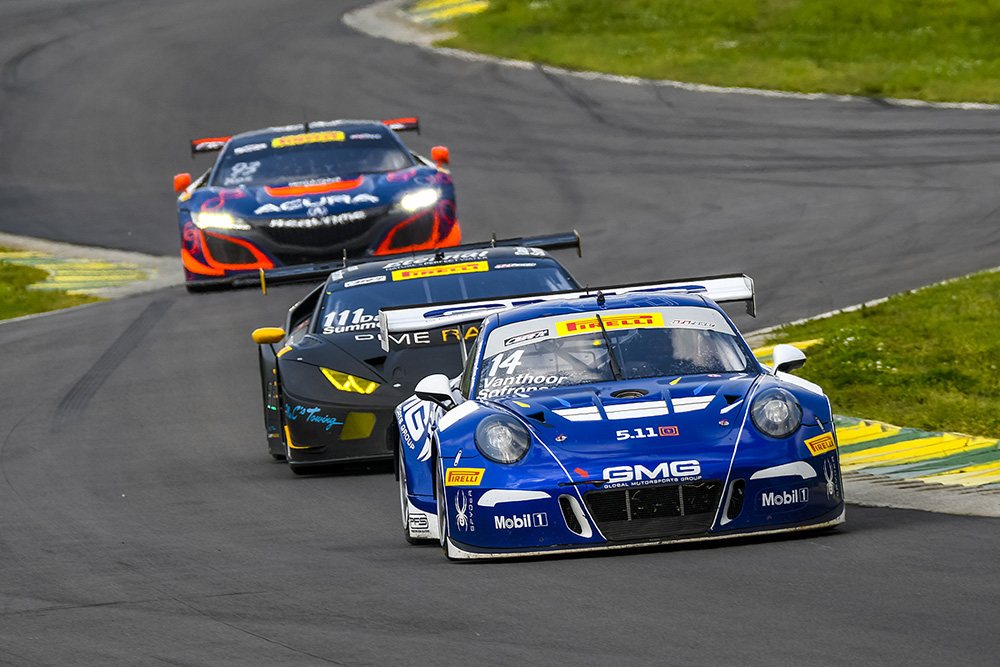 Following a series of podium performances for the No. 14 Mobil 1 / The Thermal Club / 5.11 Tactical Porsche 911 GT3 R at VIRginia International Raceway, James Sofronas and Laurens Vanthoor will arrive at the scenic 10-turn, 2.5-mile circuit ready to extend their podium streak. Competing in the Pro-Am category, the duo proved one of the strongest in the series, with Vanthoor repeatedly asserting the vehicle as the top Porsche overall during the weekend. Following a third and second-place in the previous rounds, both drivers arrive with the knowledge that a slight change in fortune could lead to victory.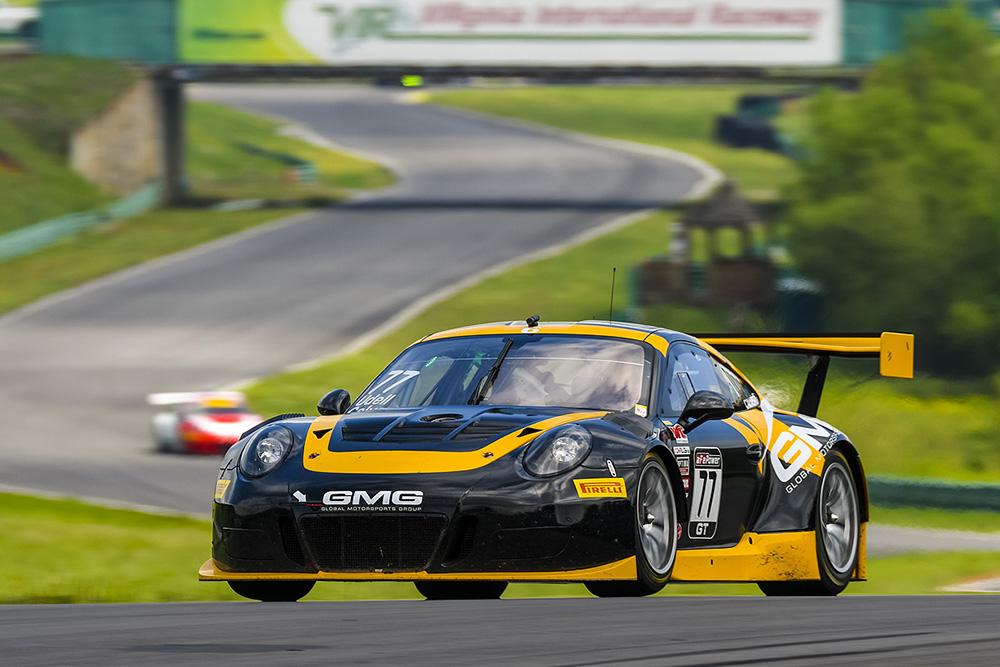 For the No. 77 Calvert Dynamics Porsche 911 GT3 R of Preston Calvert and Alec Udell, an incident in Race Two at VIRginia would create a significant challenge to the program. Incurring substantial damage, the team only had three weeks to perform a heavy re-build of the car. With the No. 77 program run as a partnership between GMG and Pennsylvania-based Phoenix Performance, within one hour of the race's conclusion the prep work had already begun for the next round. Replacing the car's tub, engine and transmission, the combination of the two groups along with Porsche Motorsport North America would turn the car around in a phenomenal amount of time, with a fully re-built machine taking to the track once the first practice session begins this week. Following a series of performances on the track that demonstrated their potential, the duo of Udell and Calvert are holding to podium ambitions.
For Preston Calvert, the team effort behind getting ready is well worth boasting.
"Showing up for this race is a great example of the team effort," stated Calvert. "Within an hour of the incident, we already had a new tub ordered from Porsche Motorsport North America, and over the next week we had a fully re-built engine and transmission. Everyone at Phoenix Performance and GMG did an excellent job getting us ready. I especially have to thank the Aquilante family and Ben VanDyke for really jumping in to get this all back together, and hopefully we can reward them with a great run this weekend. While I've run several times at Canadian Tire Motorsport Park, this will be my first time in a GT3 car, and it should be a very interesting experience. This is a real 'big boy' track because it is so fast, and with all the increased speed and aero of this car it will be a real challenge. We showed very well at VIR and were contenders for the podium, and I believe that is what our goal should be for this weekend."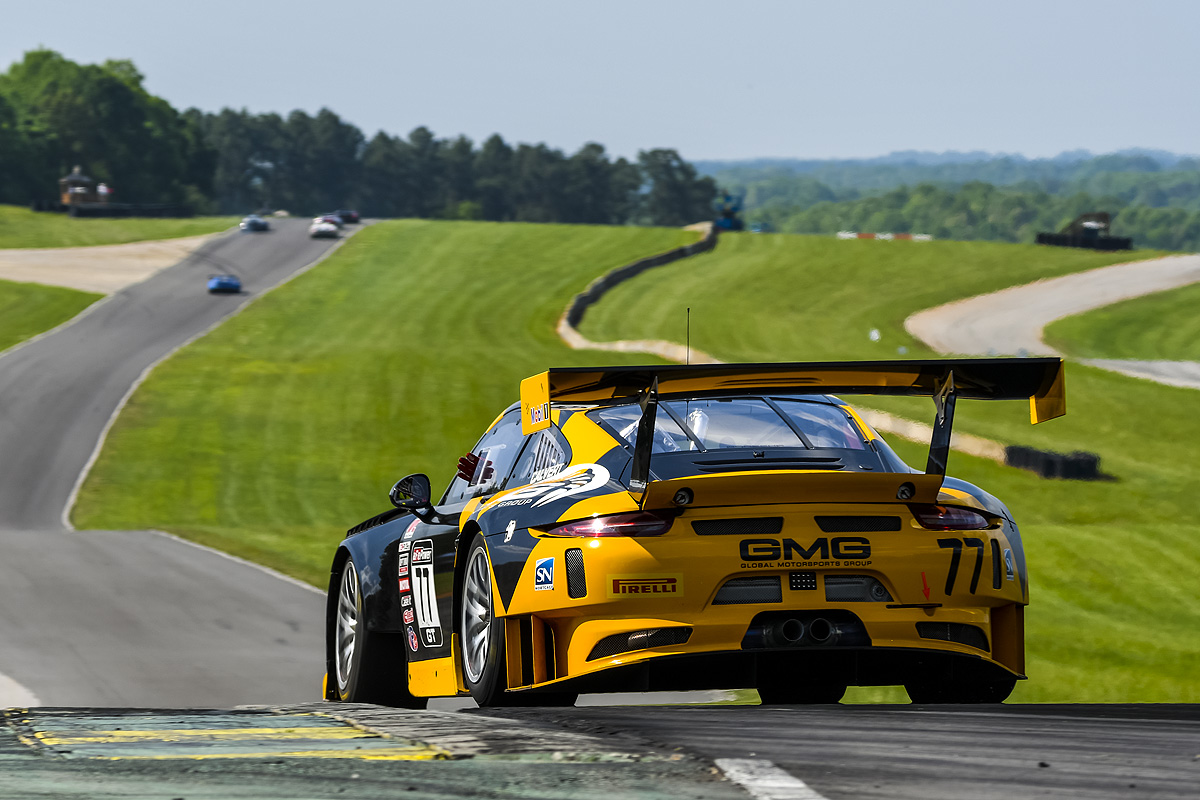 For Alec Udell, the opportunity to rebound from VIR is a welcome one.
"It's great to get back to action in Canada," stated Udell. "I'm proud of the fact we were able to prove competitive in VIRginia, and Canadian Tire Motorsport Park should be similar. It's a very challenging track, especially with the Porsche 911 GT3 R and all of its aero, but it's something I look forward to and think we'll show well at. It's a very competitive field and we're under no illusion of what it will take, but we definitely want to aim for a podium. I'm extremely thankful for all the hard work put in by Phoenix Performance, GMG, Calvert Dynamics and PMNA in order to get us on track for this weekend."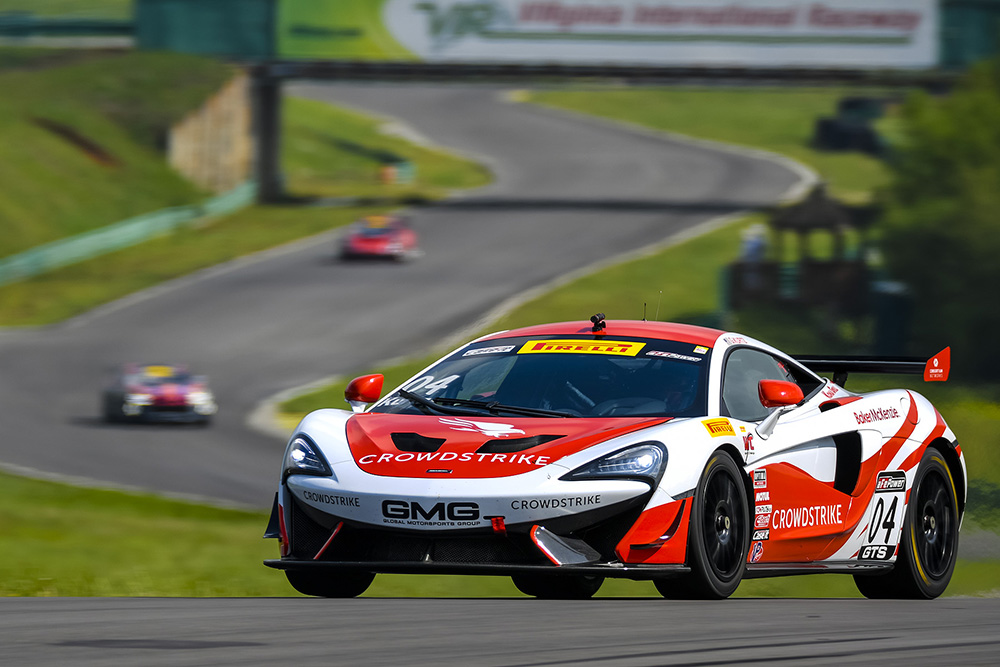 Competing in the GTS class, the No. 04 CrowdStrike McLaren 570 S GT4 of George Kurtz will arrive after a challenging weekend at VIR. Following a series of electrical gremlins that haunted the team throughout the weekend, the ability to arrive in Canada with the issues behind them will provide a welcome start.
"We're looking forward to starting fresh this weekend," stated Kurtz. "Obviously VIR was a struggle, but heading to Canada we're confident that our problems are behind us, and this should be a great track for the McLaren. This is one of the most notorious circuits in all of North America, so we know we're heading to a place where we have to be really on top of everything. Between this car and this team I feel very well prepared, and I'm excited to get back to action."
Official practice will begin this Friday, May 19, with a double-header of races occurring on Saturday and Sunday. Saturday's SprintX Race One will occur at 1:45PM ET with Race Two at 3:40PM ET on Sunday, while the GTS rounds will occur at 10:35AM ET on Saturday and 10:15AM ET on Sunday. Live streaming will be available at world-challenge.com/streamvideo